17 Patriotic Nail Designs Perfect For July 4th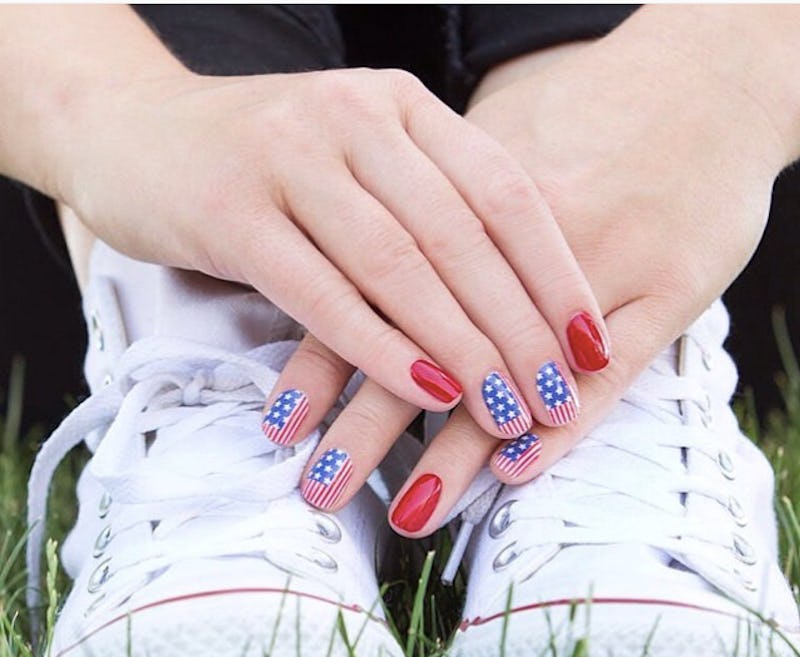 Hello fellow patriots! With Independence Day around the corner, it's time to start thinking about your perfect Fourth Of July manicure. From stars and stripes to Lady Liberty, your nail art options are endless. Think of all the red, white, and blue combinations that are out there. Whether you DIY the look or get your nails professionally done, there is no wrong way to rock Independence Day nails.
Think of your manicure as the cherry on top of your Independence Day look. It's the key factor that will tie together your whole outfit. All of your friends and family will be kicking themselves for not thinking of it first. Your patriotic manicure is sure to be the talk of any pool party.
With BBQs and fireworks to attend to, the last thing you want to worry about is chipping your hard-earned nail art. Before setting off on any July Fourth activities, make sure to apply a quick coat of clear topcoat. This simple step will make sure that your manicure doesn't chip away before the sparklers have all burnt out. Not sure where to start? Here are some great #flagart to give you a bit of manicure inspiration.
1. American Flag Decal
2. Flag Art
3. Eagle in Flight
4. Simple and Chic
5. A Glossy Look
6. Patriotism 2.0
7. Waving Flag
8. Stars and Stripes
9. Matchy Matchy
10. Star Art
11. A Glittering Look
12. Lady Liberty
13. Tiny Stars
14. Great Details
15. Perfect For a Drive
16. American Love
17. USA All The Way