8 Times Emma Is Flawless In 'Regression' Trailer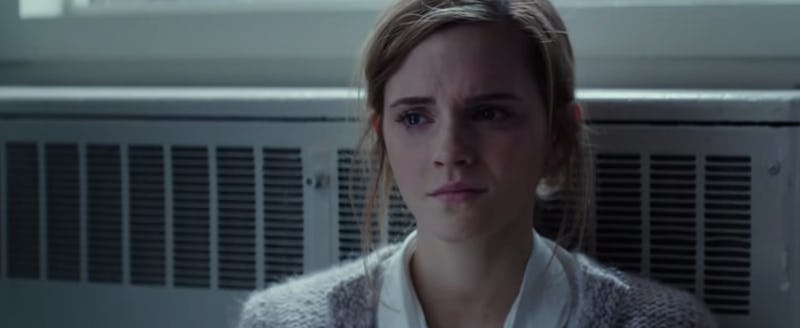 I know that really all I need to say is that Emma Watson is in another movie, and that's more than enough to get people interested, but a film this good is worthy of a little more. The trailer for Watson's new film Regression was released on Wednesday, and the horror movie is definitely going to make its way onto your To Watch list. In it, Watson stars as a young girl reporting her father for sexual abuse to a detective played by Ethan Hawke. Her father admits that he's guilty, but claims he can't recall the incident, so a psychologist steps in to help him unearth the memories with a technique called — you guessed it — regression.
As we all know, Watson is luminous goddess descended from above to teach us about how to be a person, especially a person with a good handle on the concept of gender equality. However, sometimes I forget that she's not just an amazing activist and a perfect human being, but also a wonderful actress. While Regression does have some pretty heavy subject matter, it was hard to focus as much on that when Watson was wandering around in the trailer being an incandescent wonderbeing in this trailer.
We can get into the dark stuff later, but here are some of Watson's best moments from the teaser.
Officially the only person on the planet who could pull off that neckline.
You know that thing when you have people over to your apartment, but there aren't enough chairs, so someone has to sit on the floor like a slob? But then Emma Watson does it, and she makes it look so effortless that everyone's like "OMG what are chairs anyway, I hate these I'm coming down there with you."
Pretty cool that even at her cry-iest, Watson looks better than I did at my senior prom.
The way the light hits that ski slope nose though.
When I do this, it's called "resting b**** face." When Watson does it, it's called "transcendent beauty."
The look on her face is starting to make me think that Watson might somehow secretly be the bad guy, but she looks so exquisite that I don't even mind.
Nobody better call this "ugly crying," or it will ruin that activity for the rest of us, who don't look flawless when we do it.
See above. I'm not kidding.
Check out the full trailer below, in all of its dark horror.
Image: YouTube (8)