7 Ways To Dress Like Dorothy As An Adult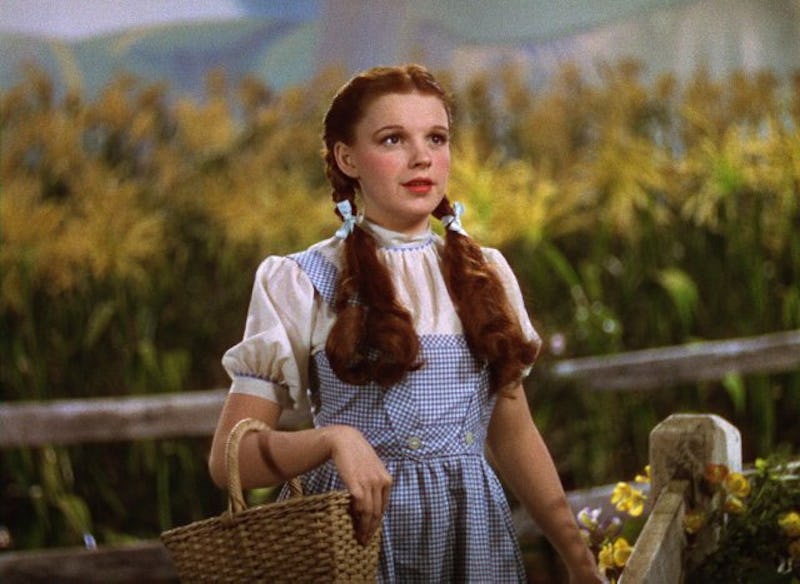 The late iconic actress Judy Garland is perhaps best known for her lead role as Dorothy Gale in The Wizard of Oz. Garland was a woman full of raw talent with incredible vocals and natural beauty. Unfortunately a star that was taken far too soon, whether you spent your childhood skipping down her yellow brick road or meeting the actress in St. Louis, Garland continues to live on through her films.
I dressed up as Dorothy for Halloween when I was in the first grade. My mother parted my hair into two braids tied at the ends with blue bows. I kicked the leaves on the sidewalk aside with my red sneakers (seven-year-olds and heels do not mix well), and carried around a wicker basket with a stuffed Toto hiding under a white blanket.
It was my Wizard of Oz phase, one the majority of my girlfriends went through, watching the film as many times as I could during the week, begging my father to sing "The Wicked Witch is Dead" in his best munchkin impression. Dorothy will never be just a movie character — she's a legend.
There are many days I think back to my childhood and wonder what it would be like to play dress up again, and I don't mean for a party or Halloween. Who doesn't miss the days of throwing on an old costume or party dress and making believe they were off to a grand ball or running through the forest to get away from a wicked witch?
It may not be the super norm to call up a fellow colleague and instead of inviting them to grab a coffee, suggest an exciting adventure developed through our imaginations and coming alive through funky mix and match pieces of our ensembles, but looking back on our favorite movies and actors for a little style inspo is definitely a thing. A smart one at that.
For a woman in the 1930s, Dorothy Gale had style (or maybe the blue and white striped dress looks cute on Judy Garland, but nonetheless). Check out seven outfits I've put together inspired by Judy Garland's Dorothy dress and ruby slippers. Get to shopping and channel your inner Dorothy Gale.
Outfit 1:
Alice McCall Ball Boy Crop Blouse, $169.40, nastygal.com
Halogen Welt Pocket Pencil Skirt, $59.00, nordstrom.com
Jessica Simpson Julita Platform Wedge Sandals, $69.99, macys.com
Outfit 2:
Nordstrom Collection Stripe Linen Tunic, $198.00, nordstrom.com
Calvin Klein Patent Leather Belt in Red, $42.00, lordandtaylor.com
Bebe Revolver Skinny Jeans in White, $89.00, bebe.com
Calvin Klein 'Nona' Wedge Sandal, $98.95, nordstrom.com
Outfit 3:
Humble Chic Striped Swing Dress, $68.00, humblechic.com
Tory Burch Logo Jelly Flip Flop, $75.00, nordstrom.com
Outfit 4:
Wide White Plastic Headband, $5.99, factorydirectcraft.com
Abercrombie & Fitch Womens Stripe Skater Dress, $45.60, abercrombie.com
ShoesPie Fancy Red & White Stripes Wedge Sandals, $83.29, shoespie.com
Outfit 5:
T by Alexander Wang Cotton Poplin Button-Down Cropped Top, $153.00, saksfifthavenue.com
The Silver Diva Wizard of Oz Charm Necklace, $20.00, thesilverdiva.com
Theory White and Blue Striped Linen Blend "Korite' Cropped Pants, $215.00, bluefly.com
Lord & Taylor Dressen Leopard-Print Calf Hair Flats, $39.60, lordandtaylor.com
Outfit 6:
Double Headband In Matte Satin in Firecracker, $9.00, dessy.com
ASOS Sleeveless White Shirt, $36.00, asos.com
Striped Linen Belted Shorts, $19.90, forever21.com
Vince Camuto Miya Buckle Flat T-Strap Sandal, $69.99, vincecamuto.com
Outfit 7:
Akira Carry Away Sky Blue Crop Top, $34.90, shopakira.com
The Limited Inset Pencil Skirt, $34.99, thelimited.com
Kate Spade New York 'Imari' Satin Ankle Strap Sandal, $350.00, nordstrom.com
Images: MGM(1), Courtesy Brands(22)