'Under the Dome' and Other TV Series and Movies With Notable Bubbles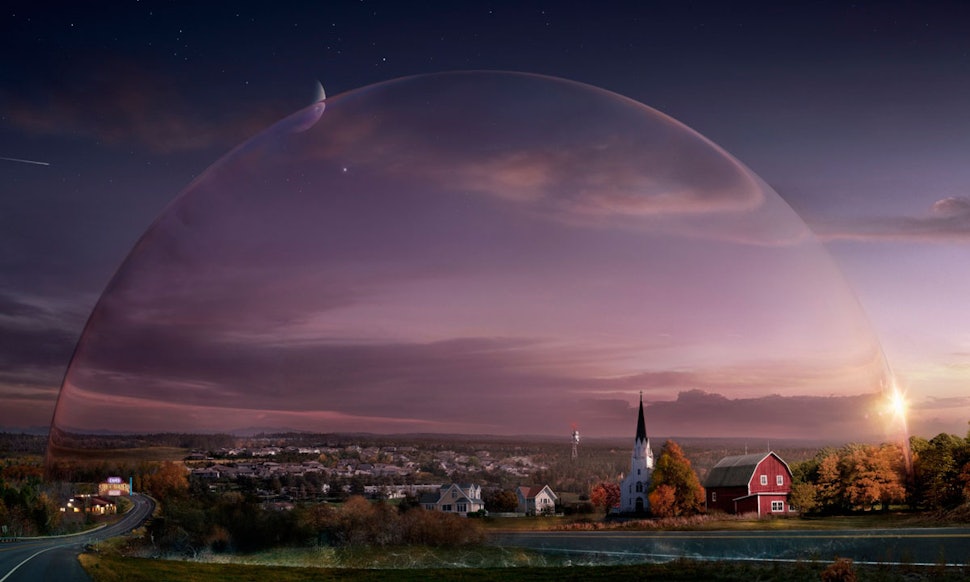 The mini-series Under the Dome premiered Monday on CBS, and we loved it. After all, it's not everyday that we get to watch as people scramble around while stuck inside of what is basically just a giant bubble. But Under the Dome isn't the first series to feature its cast inside of a dome — apparently, it's a more common trope than we thought. [Image: CBS]
Who else has been put in a bubble?
The mini-series Under the Dome premiered Monday on CBS, and we loved it. After all, it's not everyday that we get to watch as people scramble around while stuck inside of what is basically just a giant bubble. But Under the Dome isn't the first series to feature its cast inside of a dome — apparently, it's a more common trope than we thought. [Image: CBS]
'The Simpsons Movie' (2007)
In The Simpsons Movie, Homer pollutes Lake Springfield, causing the Environmental Protection Agency to seal the contaminated Springfield in a gigantic glass dome. (Sound familiar?)
'The Prisoner' (1967-1968)
This surrealist British television series centered on a former secret agent (Patrick McGoohan) who is held captive on an island village. Why doesn't he escape? Because whenever anyone tries to leave, they are transported back by a giant white ball called the Rover.
'The Wizard of Oz' (1939)
Glinda the Good Witch didn't fly around on a broom stick. That would be far too cliché. Instead, she dazzled Dorothy and the Munchkins by arriving in Munchkinland via magical bubble.
'Bubble Boy' (2001)
Jake Gyllenhaal stars as Jimmy Livingston, a boy whose immune system is so fragile that he is forced to live in a sterilized dome. When the love of his life tells him that she's getting married, Jimmy puts himself into a mobile bubble and goes to stop the wedding. If only he could stop the movie — critics lambasted the unfunny film.
'The Boy in the Plastic Bubble' (1976)
John Travolta plays Tod Lubitch, a man with an immune disorder that renders him unable to step outside of his bubble. Gyllenhaal's ill-advised Bubble Boy was based on this made-for-TV-movie.
'St. Elsewhere' (1982-1988)
'St. Elsewhere' was a medical drama set in a down-on-its-luck hospital. Pretty straight-forward, right? Wrong. In the finale of the show, it was revealed that the entire series was in the imagination of Donald Westphall's autistic son. Tommy has imagined the series by staring at the St. Eligius hospital replica inside of a snow globe... meaning that the people have been inside of that globe this whole time. Kind of trippy.