4 Things That Must Happen In The First Space Porn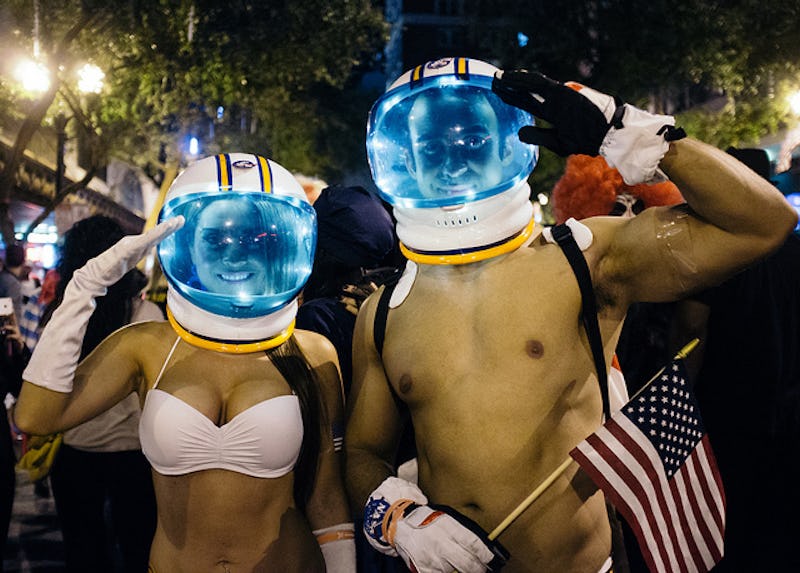 If I had a nickel for every time I watched porn and thought "This is great, but it's just so terrestrial", I would have zero nickels. But apparently, some people have thought this, which has lead PornHub to start crowdfunding for "a one of a kind mission to defy gravity, make history, and push the boundaries of intergalactic 'Sexploration' by filming the first sex tape in space". That's right, a sex tape in space. Surely, this is the day John F. Kennedy dreamed of.
How will they have sex without gravity, you might ask? And why would you want to? Well, according to the FAQs on their Indiegogo page:
How does one have sex in anti-gravity?
"That's what we're hoping to find out, but yes, it is physically possible according to our research."
Why are you doing this?
"For the love of science and sex."
There we go. I would love to see the anti-gravity research sector of the PornHub offices. If this goes ahead, the two stars— Eva Lovia and Johnny Sins— will "be undergoing training akin to what most potential astronauts have to go through, just within a more accelerated program. This includes zero gravity training, velocity, and temperature training…they'll also be taking classes from professionals about the dangers and precautions of space travel.", Pornhub told The Washington Post.
My brains feels like scrambled eggs trying to understand all this, but some people are behind it. As I'm writing this $6,485 has been raised by 327 people in 23 hours. Yes, that is only a fraction of the $3.4 million dollar goal, but is still over six grand and 327 people who thought "I have some spare cash, and this is where I think it is best spent on a video of people floating and doing it." Whether this people are my heroes or my mortal foes, only time will tell.
You can donate starting at $1 and become a Pluto donor —which "will snag you a Certificate of Endorsement confirming your support of the Space Program" — all the way up to a Uranus donor, where for $150,000 "this top level donation scores you one of the 2 spacesuits worn by our sextronauts complete with underwear, plus a swag bag! Great for cosplay enthuses". As of yet there are no takers on the highest level. The good news is they don't make their goal any donations are refunded. So that's... well, that's something.
Just to reiterate: Corey Price, PornHub VP, assured The Washington Post "This is actually 100 percent real". This is actually 100% real, people.
So, here's some things we hope happen in the first space porn:
1. An amazing story line
Are there pizza delivery men in space? Will some one come to clean out the space pipes? I expect the same attention to detail and plot that I would in any other porn— we'll be watching for inconsistencies.
2. Momentum
Maybe this seems basic, but when I think of astronauts I think of people floating around not really tethered. So I feel like 90 percent of the film is just going to be attempting to get close enough for penetration... hopefully they come up with a way to get things moving.
3. Space lingerie
I mean, costume is important. Will they make the space helmet and lingerie look work? Will they keep their boots on? WILL THERE BE SPACE PUNS!? Okay actually I'm starting to get weirdly on board.
4. Aliens
This is a no-brainer. If there are no aliens then I want my money back. (I promise I haven't donated any money to this).
Images: Ahmed Hashim/Flickr; (5) Giphy