This 'OITNB' Parody Makeup Tutorial Is Hilarious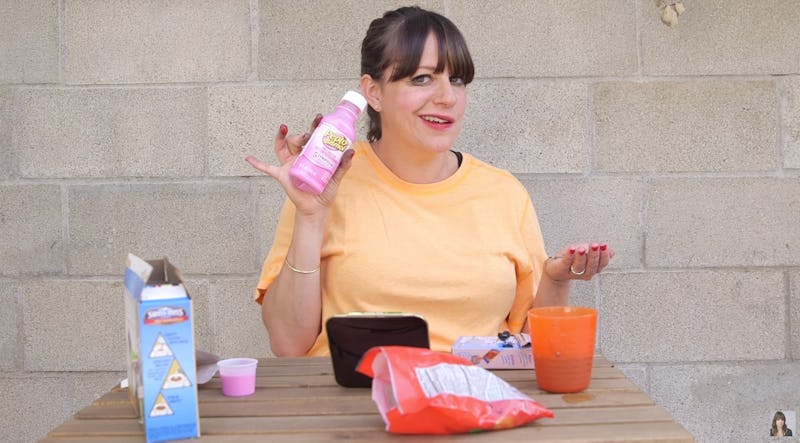 We're officially down to t-minus one day until we're back on the visitors list at Litchfield, so it's finally time to plan your Orange Is The New Black viewing party look. And who better to look to for beauty inspiration than Piper, Alex, and the other lovely ladies of Litchfield with makeup artist Jamie Greenberg's Orange Is The New Black parody tutorial. that'll put even Sophia's salon to shame.
Jamie Greenberg is a celebrity makeup artist who has beautified the faces of Rashida Jones and Kaley Cuoco-Sweeting for years and now is here to help you if you find yourself heading to prison. Or, you know, just want to celebrate the return of Orange Is The New Black. Using household and food items (because inmates typically don't have access to MAC and Laura Mercier), Greenberg has created a full makeup look that'll even steal the attention of Crazy Eyes. It's perfect for a between episode activity at your Orange Is The New Black viewing party tomorrow. Or if you ever find yourself in a jam, you can take comfort in the fact that you can MacGyver yourself a sexy, summer glow using only a packet of Swiss Miss hot chocolate.
Just follow the tips below and everyone will be calling you Dandelion.
Step One: Pepto-Bismol Blush
Who knew that its bright pink color would translate to your cheeks?! Simply blend the medicine along the apple of your cheeks as if it's a cream blush, for a healthy, lively pink glow.
Step Two: Iced Tea Lip Stain
Use powdered drink mixes to fashion yourself a lip stain that'll not only rival Alex's trademark red lipstick, but it'll taste pretty banging, too.
Step Three: Bronzer by Swiss Miss
Simply brush the hot chocolate powder from the packet of a Swiss Miss for a sexy (and delicious) bronzed glow. "The only problem is that everyone's going to want to eat you in your cell," warns Greenberg.
Step Four: Jelly Bean Smoky Eye
Crush and dampen a black jelly bean for smoky eyeshadow and eyeliner that's far tastier than anything you'll find on a Sephora shelf. See, just because you're in prison doesn't mean you'll have to slack off on your beauty game! Sophia already showed us how it's done...
In case you haven't figured this out by now, you probably shouldn't try this look out at home.
Images: Youtube.com, Giphy.com