What It's Like To Have Sex With The Fleshlight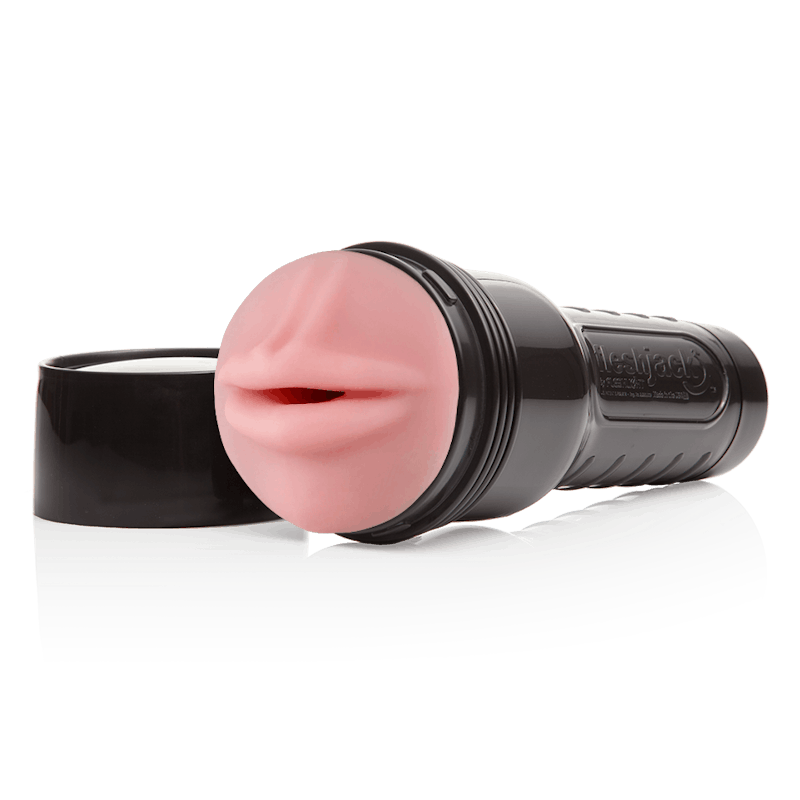 A few days ago, I peered into the toy box that formerly housed hundreds of my action figures. These childhood treasures would lie messily on top of each other, as if I were hosting some sort of superhuman orgy. As I've grown into an adult, this considerably large wooden box is now the preferred storage space for my many sex toys. ­(I'm no Christian Grey, but I do happen to boast an impressive collection of sex toys that I've received from various PR companies over the years.)
As I peeked into the crate earlier this week, lying atop a background of vibrating neon delights was the almighty Fleshlight — a fake vagina that you have sex with. I had only used this toy once before, and let me tell you, it was painful. This was, of course, because I hadn't read the instructions. (Because who does that, unless it's IKEA furniture?) Later, I found out that using a Fleshlight requires lubricant.
Despite the stigma around cisgender men using them, the sales of sex toys targeted toward us have risen by 1,000 percent over the past decade. And since the Fleshlight is the bestselling sex toy on the planet for people with penises, I decided I'd give it another shot for journalistic purposes (but also for reasons that are less commendable).
Fleshlight Original Male Masturbator, $55, Amazon
Before I continue on with this story, however, let me first provide some personal insights on the Fleshlight that you wouldn't know unless you or your partner owned one. 1) The toy is both much longer and girthier than your average flashlight (the Fleshlight's creator, Steve Shubin, decided on the flashlight as its form for discretionary purposes). 2) The "flesh" portion of the Fleshlight is incredibly realistic.
When I first unboxed the toy, I held off on using it for no other reason than that I wanted others to feel the bizarre texture before it was tainted by my penis. And they were just as intrigued as I was. My only complaint is that some might consider it a little cold — and penises are scared of the cold, as it tends to make them recoil back into our bodies.
To test out this lovely device again after our painful introduction, I dimmed the lights, placed a platter of chocolate-covered strawberries on my nightstand, delicately set the Fleshlight on a satin pillow beside me, found the sleaziest playlist I could on Songza, and uploaded some of the Internet's most renowned hardcore pornography for an evening of personal intimacy. OK, none of this actually happened. What I really did was grab the Fleshlight, toss some lube in, and, once the house was empty, visit my favorite porn streaming website and go to town — on myself.
I'll admit that I initially had trouble getting myself in there, but with enough lube (you're basically fingering the thing to get it wet), I did make it in. And damn, it felt a lot like the real thing. I was genuinely surprised by its effectiveness. The only part of the toy that isn't quite believable was the way it reacted with the lube. It might not be the Fleshlight's fault, but wetness-wise, it felt nothing like an actual vagina's lubricant. It's too thick and makes a total mess of your sheets. After about five minutes with the Fleshlight, I got bored of the thing and instead chose to use my hand to finish myself off. What can I say? I'm a traditionalist.
While I'll admit I did feel slightly ridiculous using it, the toy definitely accomplishes what it sets out to do.
Of course, it's not enough to replace my girlfriend — it lacks passion, intimacy, and, well, a body — but it's a damn good substitute. The Fleshlight feels especially good when you pull it all the way off your penis, then drive it down aggressively. Just be careful not to fracture your wiener. With that, I promise I'll quit it the graphic accounts of my own penis, and conclude my review by saying that the toy is good — really good. But it isn't good enough.
Basically, like a veggie burger, the Fleshlight doesn't quite equate to what it sets out to replace.
Need some dating tips? Here's five only your bartender knows (P.S. Subscribe to Bustle on YouTube for more life hacks!):
Want more of Bustle's Sex and Relationships coverage? Check out our new podcast, I Want It That Way, which delves into the difficult and downright dirty parts of a relationship, and find more on our SoundCloud page.
Images: Fleshlight; Giphy