FIT Brings Global Style To NYC With New Exhibit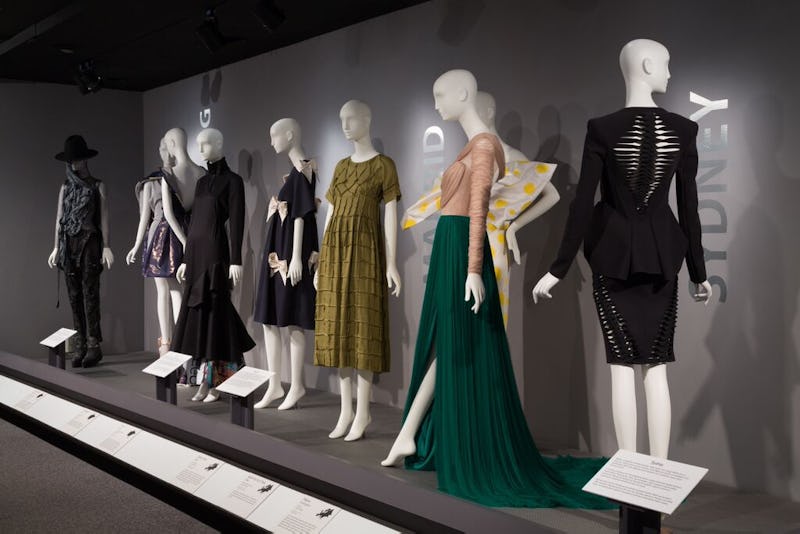 It's hard enough to keep up with all the various Fashion Weeks on social media, let alone for those actually traveling to the shows; it seems as though there are as many presentations, parties and runway shows as there are Instagram accounts. Luckily, for those of us not able to make it to Mumbai, Mexico City, or Sydney, the curators at The Museum at FIT's new Global Fashion Capitals exhibit rounded up pieces from designers in 20 cities worldwide that best capture the essence of the new Fashion Capitals. It sounds like design is no longer relegated to London, Milan, Paris and NYC.
The exhibition, called Global Fashion Capitals, features a digital style map, quite fitting for an industry that's actively swiping right on a relationship with tech. The map locates fashion capitals and showcases images from both runway and street style therein.
Designer displays are organized by city, with icons like Chanel and Dior putting on for Paris, Alexander Wang, Halston and more repping New York, Versace and newbie label Stella Jean typifying Milan and Vivienne Westwood and McQueen representing for London.
To make in onto the FIT-ordained fashion map and into the exhibit, cities have to have a serious fashion scene that includes envelope-pushing designers, commercially successful brands, and fashion weeks that attract international eyes — and derrières runway-side.
According to the show's curators, it takes a perfect storm of politics, economics, and government support to birth a strong style scene. Catalysts like the post-apartheid era in Johannesburg and protests Kiev are as much driving forces as supportive governments that fund designers in Copenhagen and Seoul.
Lookout for pieces from Tokyo, Stockholm, Istanbul and more in the exhibit, which opened on June 2nd and will stay up until November 14th.
Image: Courtesy FIT