How To Make A Piña Colada Face Mask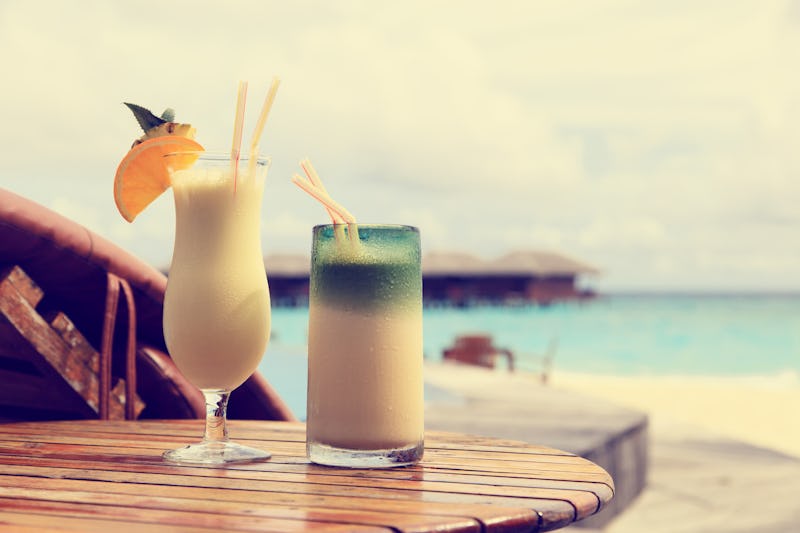 As the weather warms up for good, the search for a ripe pineapple becomes easier. With all the skin benefits pineapple has to offer, I'm on a permanent search for the perfect pineapple face mask to lift dark spots and smooth morning eye puffiness. In the name of full disclosure, I must admit prior to falling in love with DIY pineapple treatments, my relationship with pineapple was rather boozy. There has never been a time in my adult life where I have denied myself a piña colada during beach adventures. Little did I know that beverage could be the ticket to youthful, flawless skin.
Due to pineapple's tart taste (and those weird enzymes that eat you back or whatever), I can never stand to eat too much of the raw fruit. Fortunately that's not the same for skin products. According to sources at Livestrong, pineapples contain B and C vitamins and even provide a modest dose of protein. Vitamin C-rich products are one of the best anti-aging tools in skincare because it boosts immunity and is a natural antioxidant. Topical use of pineapple can help form collagen, smoothing existing wrinkles and help prevent future lines from showing up on your skin. With vitamin-packed fruits like pineapple on the shelves, you can ditch those pricy vitamin C serums that you may have been tossing your hard-earned money towards.
According to sources at StyleCraze, pineapple is an effective acne treatment. In addition to treating your current breakout, the vitamin C and potassium are excellent natural scar removers. Many acne treatments I've tried in the past have had the ability to zap zits and get rid of redness, but few OTC treatments have been able to take away the dark scar that said zit has left behind.
One of pineapple's more unique claims is that it can be used to get rid of warts and moles. Although there isn't much concrete evidence as to why pineapple is successful, the antifungal and antibacterial properties seem like a likely reason. Either way, those antibacterial properties are definitely something you want to be smearing all over your face. It seems regardless of your skin woes, pineapple has plenty of nutrients to help solve even the direst of skin crises.
Get your pineapple game going strong this summer while the fruit is ripe and fresh! These two natural pineapple treatments will definitely get you hooked — and they are super easy to make. Before you use pineapples be sure you are makeup free and don't forget to peel off the skin of the fruit. The biggest challenge? Getting into that pineapple without injury.
Piña Colada Face Mask
Obviously this was the first mask I tried with pineapples. I have to say, I was pretty impressed at how soft my skin felt afterwards. Cut your pineapple horizontally to slice in the shape of a ring, then toss one slice of pineapple and two tablespoons of coconut milk into a blender. Next, apply your piña colada mask on your face and neck and leave on for about three minutes. Do not leave pineapples on your face for longer than 5 minutes as it can lead to irritation. Rinse well with warm water.
Pineapple Slices
You can rub slices of pineapple on your face for literally all your skin needs. Just use a fresh slice or cube of pineapple and rub on your face and neck, then let the juice dry for about three minutes. Rinse with lukewarm water and be sure to apply your usual toner and moisturizer afterwards. Note: You don't want to use pineapple on open blemishes or scars. Trust me.
Image: nadezhda1906/Fotolia; Giphy; Kristin Collins Jackson