Our Newest Beauty Obsession is a Villain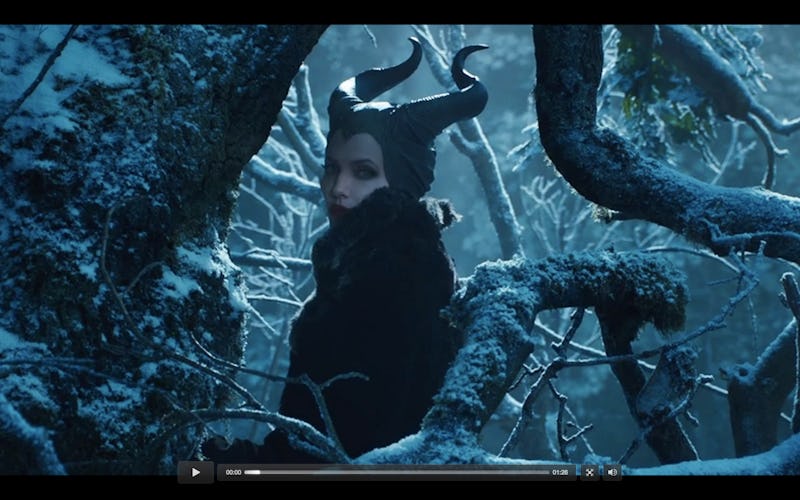 There's a new Disney villain in town and we want her brows.
Disney released the first official poster for Maleficent earlier this week, and although we've seen Angelina Jolie in her Maleficent makeup before, the poster — which shows the evil queen glancing sideways at the camera from behind a high black collar — left us even more intrigued for the movie.
In the first official trailer, released on Wednesday, we finally got to watch Jolie's Maleficent in action, and maybe it's because we're all grown-up by now, but we couldn't stop gaping at her amazing makeup. It's obvious that the movie, which explores the backstory of Maleficent's evil, will be making the most of Angelina Jolie's otherworldly looks. Let's be honest, grown-ups love Disney, too, especially when it promises to be this stylish.
The original Maleficent was always one of the more glamorous Disney villainesses, though if we're being honest, her look is a little dated. Purple eyeshadow up to her brow bones? Really? Jolie's version retains some of that old Maleficent charm — severely arched brows, a bold lip, and those iconic horns (Philip Treacy would be proud) — but she's definitely been updated:
Stunning, right? Here's what we figure you'll need to get the Maleficent look:
1. One- or two-shades-too-pale foundation. Evil drains the face of life.
2. A matte red lip. Thank goodness we have just the DIY for you!
3. An eyebrow pencil that just won't quit. Calvin Klein's brow pencil is pretty amazing.
4. The most extraordinarily contoured cheeks of your life. You want cheekbones that look like they could cut like a knife. Seriously, you need to be able to peel carrots on these things. So yeah, you'll need a drag queen makeup tutorial.
5. A shaded, not lined eye. Black eyeliner is for villains that are just so obvious. This new iteration of Maleficent has alluringly haunted eyes, but they're not exactly lined, they're just deep-set and mysterious. Get the look with a smoky eye palatte, using your fingers to create those soft, spectral shadows.
Watch the trailer below!