I Recreated My Dad's Greatest Retro Styles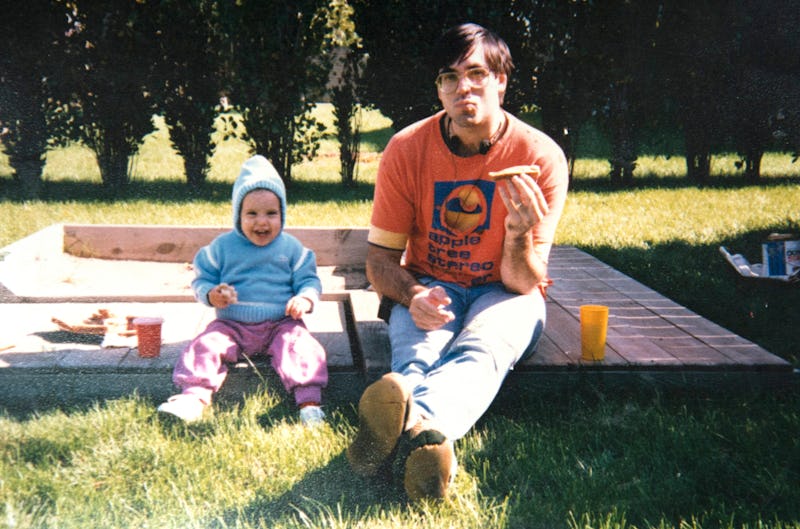 My dad has been my personal hero for about as long as I can remember — probably even longer: He instilled in me a love of classic rock and blues, he taught me the merits of diligence and dedication, and how to be genuinely supportive of the people you love. My dad taught me about fashion and style (whether or not he realizes it today), and even took the time to master the art of ponytails and barrettes so that he could do my hair for me when I was a little girl. Yes, you heard me, my father, the business man and philanthropist, the cyclist and the beer enthusiast, took time out of his busy adult schedule to sort barrettes with his four-year-old daughter. And I don't just mean a few moments. We're talking hours of finding the right colors, switching out blueberry barrettes for those ridiculous hair ties with little pastel plastic balls, and redoing ponytails to look just right. After all, like many stylish little kids, I was a girl whose hair game was pretty on point, probably thanks to my dad, who knows the importance of being well-groomed. (I don't think I've ever seen him go a day without coiffing his hair.)
Looking back, when he didn't have to fly out the door, I think my dad really enjoyed those moments. He was always a little bit awestruck when he watched me braid my Barbie's hair, and I suspect on some level, the mystical world of little girl fashion and princess style both fascinated and comforted him. You see, my parents split up when I was pretty young, and despite everything, dad has been there for me every step of the way. He may not have known entirely what to make of Barbie and her plethora of pink belongings, but he was present enough to know that even though I spent a lot of time dressing like a tomboy when he was around, there would come a day when glamour and fashion would play a bigger role in my life.
Considering how much I've learned from my father on our various camping and fishing trips, and the myriad of hours spent watching him work out of the print shop he's owned for the majority of my lifetime, it's no surprise that my personal style reflects his (much the way I've gleaned a shared love of many of his hobbies). Of course, with the many years I've spent donning revealing clothes, wild hair colors, and some pretty non-traditional garb, my dad was baffled a few times by my fashion choices, and probably wouldn't consider me his mini-me by any stretch of the imagination. But when you strip away all of the bells, whistles, experiments, sequins, and flares, my fallback wardrobe consists of the same, easy to craft in, conveniently comfortable, jeans and t-shirts I've watched my father wear in his free time since day one. So, here's a quick homage to the man I call dad — the man who's been one of my greatest allies and most constant sources of inspiration over these past 30 years.
The Throwback... Waaaaaay Back
Taken back in 1979, this image of my dad has long been one of my favorites. Someone clearly caught him mid laugh, and mid blink, and while you might not immediately consider those to be great attributes of a memorable photograph, this is one of the most relaxed images I've ever seen of him. Not to mention, the glory of that beard! I think my dad, eyes closed, big glasses and all, looks pretty cool here. Way cooler than your dad. Which is precisely why I had to go out, attempt to find similarly gigantic glasses, a simple tank top (although mine isn't nearly as rockin' retro as his), and don my best goofy smile to recreate his chill vibes.
Tunes And T-Shirts
As you can see, my dad's musical and style influences impacted me from early on. As did his appreciation for sandwiches. He taught me the value of home maintenance, and the right way to hold a paint brush when staining a fence (or painting a wall). Which in retrospect is pretty precious, since his mother taught me the right way to hold a paintbrush when watercolor painting a landscape of the mountains.
Whether he was teaching me to keep up with the yard work, showing me how to handcraft furniture in the garage, or staining paneling for the basement, dad always had good tunes playing. Maybe that was to drown out the way he talked to his projects when they were frustrating, but I think it was mostly because he was so cool. I mean, c'mon, look at that Walkman! When it comes to projects (artistic or home improvement related) and downtime, nothing quite compares to the casual style of jeans, a t-shirt, and tennis shoes.
Professional And Polished
OK, so we're clearly still in throwback mode, but does tweed ever really go out of style? Having a tweed jacket in your repertoire is a sure sign that your professional style rotates around classic fabrics and clean lines. And when it comes to the fashion stylings of my father, nothing could be more true. He wears a blazer and tie or well tailored suit to work nearly every day, and being an ambassador on his local chamber of commerce, his closet also happens to include a very swanky green blazer.
Yep, my pop showed me each and every day the importance of putting your best foot forward, fashionably speaking, when it comes to business. Of course, one of my favorite ways to bond with my dad is to poke fun at how conservative we both know he can be every now and then, so, my recreation of this look is well, um, playful...
Really though, Dad, no matter how dorky you can get when you're having fun, or how serious you are about running a truly respectable small business, I think you're one of the coolest cats around. Thank you for all of the wisdom you've imparted upon me over the years, for the good times we've shared (and the tough times we've survived), and for always, always, always, keeping it classy.
Images: Jen Schildgen