8 Rachel Dolezal Quotes On Ethnicity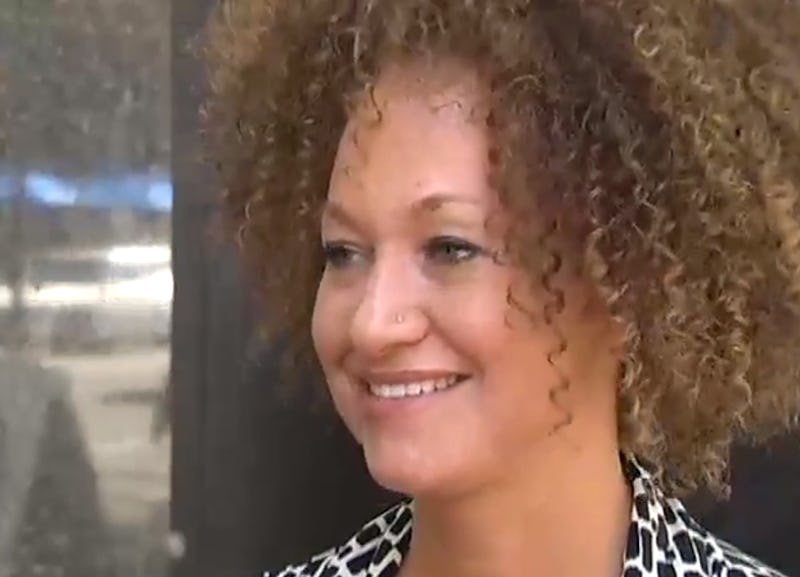 According to an interview given by her parents Thursday, the local president of Spokane's chapter of the NAACP, Rachel Dolezal, has allegedly lied about being black. The scandal received national attention when Dolezal's estranged parents claimed that she had been misrepresenting herself as African-American. Dolezal has publicly identified as at least partly African-American, though her birth certificate reveals that both of her parents are Caucasian, according to CNN.
Dolezal identified as African-American when applying for a Spokane police ombudsman commission, CNN reports. She also announced on the chapter's Facebook page that her father was coming to visit, posting a photo of herself with an African-American man. When questioned by a CNN affiliate reporter about this photo, she walked away from the microphone.
Dolezal is an Africana studies educator at Eastern Washington University. She teaches classes on African and African-American art history, African history, African-American culture, and the struggle of the black woman, according to the school's website. She is also a social columnist and ethnic hairdresser, according to Spokane Faith and Values.
Much of the African-American community is angry with the news, but the NAACP said in a statement that the organization stands by her. It said:
One's racial identity is not a qualifying criteria or disqualifying standard for NAACP leadership. The NAACP Alaska-Oregon-Washington State Conference stands behind Ms. Dolezal's advocacy record. In every corner of this country, the NAACP remains committed to securing political, educational, and economic justice for all people, and we encourage Americans of all stripes to become members and serve as leaders in our organization.
Dolezal has spoken powerfully about race — her own and the struggles of the African-American community — in the past. These quotes remain potent, but feel disorienting given what we now know about her alleged deception.
On Oppressed Groups
The civil rights struggle is one that includes advocacy for historically oppressed groups such as people of color, women, and people living with disabilities; racial justice is not disconnected from other avenues of civil rights and social justice.
Dolezal made this statement in an interview with Spokane Faith and Values shortly after becoming president of the local NAACP chapter. Some of her critics on Twitter have expressed anger that if she was misrepresenting herself, she was taking credit for prejudices that she wouldn't have faced.
On Difficult Questions
That question is not as easy as it seems.
This was a response to a direct question about Dolezal's ethnicity, according to The Washington Times.
On Diversity of Officers
There's kind of an expectation or profile of what a NAACP member or officer looks like, and people may not know that historically, in Spokane, people from all backgrounds have been officers. We have Chicana members, white members, younger members, older members, members from the LGBT community, and members with disabilities.
Dolezal said in the Spokane Faith and Values interview that her age was a tension in this election because leadership had shifted to younger members. She did not mention whether ethnicity was also a tension.
On Clarifying
It's more important for me to clarify that with the black community and with my executive board than it really is to explain it to a community that, quite frankly, don't really understand the definitions of race and ethnicity.
Dolezal made this statement in a television interview, according to The International Business Times. She confirmed that Larry Dolezal is her father and said she understood why people thought she misrepresented herself.
On Black Women
Dolezal uses her Twitter mostly to promote her art, which centers around African-American themes and models, and as an advocacy tool.
On Bridges
I see myself as a bridge builder. More unity is needed in Spokane, since the population of communities of color is small and isolated. We need the broadest support possible. I want to keep the NAACP mission and vision strong as far as advancing people of color and civil rights in the local and national scene.
The regional NAACP president reflected in her Spokane Faith and Values interview about the large number of black churches in the area, which, in her opinion, illustrated the racial divide in the community.
On Africa
We're all from the African continent.
According to The Washington Times, Dolezal made this statement as a response to questions about her ethnicity.
On Being Black
Actually, I don't like the term African-American; I prefer black. So, if asked, I would say, yes, I consider myself to be black.
Dolezal said this to Spokane affiliate KREM, according to CBS This Morning.
Images: YouTube/KXLY, YouTube/Lrjtv, YouTube/SourceFed; YouTube/CNN