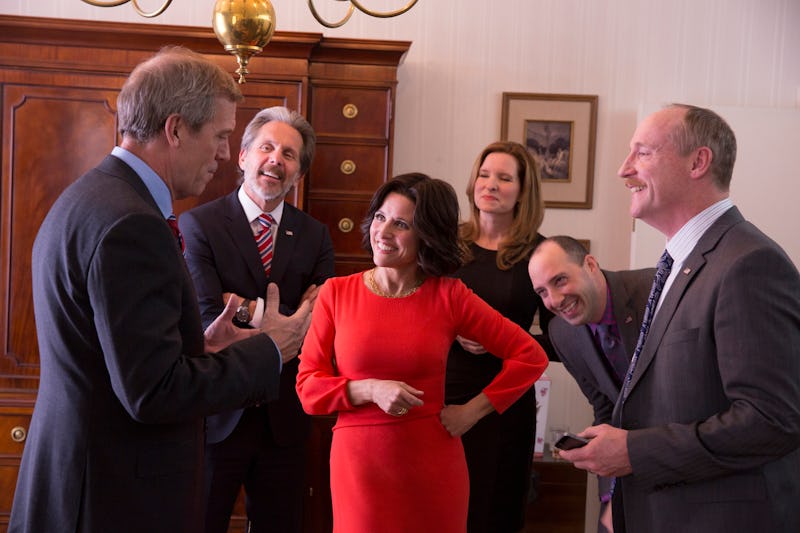 The season finale of Veep airs this Sunday on HBO, but we won't have to say goodbye to Selina Meyer and her lovable staff of incompetents for long. This season has brought scandal, breakdowns, and a lot of laughs. Thankfully, Veep was renewed for Season 5 in April.
When will the new episodes hit your television and app screens? We don't know officially when Veep is returning yet, just that it is. The premiere dates have not been set. However, it's likely that HBO will continue the pattern they've been following and premiere Veep alongside Game of Thrones, Late Night With John Oliver and Silicon Valley in the late spring/early summer of 2016. The two comedies pair well together after all the drama and carnage of Westeros. According to the official HBO press release, president of HBO programming Michael Lombardo explained the mass renewal by praising these shows as they "give HBO a stellar Sunday night like no other."
It's such an interesting model that HBO has. They dominate Sunday night almost all year long, with different blocks of programming airing at different times of the year. When one show ends, another begins. It's a small advantage that I think a lot of networks could learn from.
With Election Night around the corner for President Meyer, I can't wait to see what kind of cliffhanger the finale has in store. Will Selina be an eight-month President, or will she manage to pull out a victory? Will Hugh Laurie's character Tom James return for Season 5? I like that this show has not been too spooked by its title and exercised the freedom to advance the career of their main character.
One big change that we can anticipate for Season 5 is behind the scenes. Showrunner and Veep creator Armando Iannucci is leaving the series at the end of this season. There wasn't any drama, he's just doing this crazy thing called "having a family life" back home in London, whatever. Iannucci will be replaced by David Mandel — who worked on Seinfeld (for which he won a Writer's Guild of America Award) and Curb Your Enthusiasm. I think it's safe to say that the show is in good hands. While a creative shakeup like this is sometimes a concern for television shows, I wouldn't be too worried this time. It actually happens quite often without anyone knowing the wiser. Plus, the Veep ensemble is too strong. They can't be touched at this point.
The most important thing here is that Veep is coming back! I'll see you all in Season 5.
Image: Patrick Harbron; Giphy (2)