Photos from HRC's Campaign First Event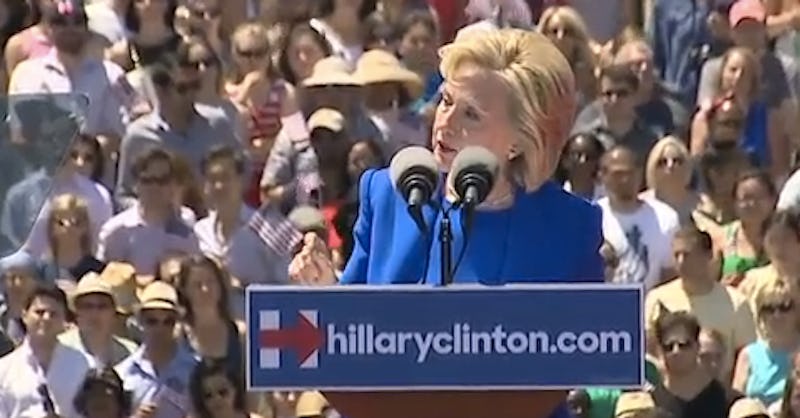 Hillary Clinton's campaign video was great and all, but it kind of cheated us out of the hoopla that you get surrounding campaign kick-offs. The music, the crowd, the energy — you just can't get that from a YouTube announcement! But on Saturday, Hillary Clinton held her first campaign event, effectively serving as the announcement that we never got.
Hundreds of supports showed up to New York's Roosevelt Island for the 45-minute speech, which focused on debuting her revamped 2016 platform. Onlookers were treated to sunny weather, a pantsuit in maybe the most beautiful shade of blue to have ever existed, and an appearance from Bill and Chelsea Clinton at the end of the speech.
Unfortunately, many supporters couldn't make it out to the speech, which was live streamed on her site and by C-SPAN. But still, even seeing the speech doesn't always translate to the sights and sounds that you can get actually being there. Maybe Bill Clinton would have stopped to take a selfie with you. Maybe Clinton would have made eye contact with you for a brief moment and reaffirmed that everything in life is going to be OK with the single knowing glance.
Luckily it seemed that all of Twitter was there to document it. No, it won't be as good as the real thing, but still. Here are some shots of the event if you missed it, or you're just looking to relive the magic:
I FEEL LIKE THAT, TOO!
Clinton's campaign caught up with people at the event and asked them why they were there. The answers were pretty amazing.
Images: Screenshot/CNN