Kiini Bikinis Bring Boho Vibes To The Beach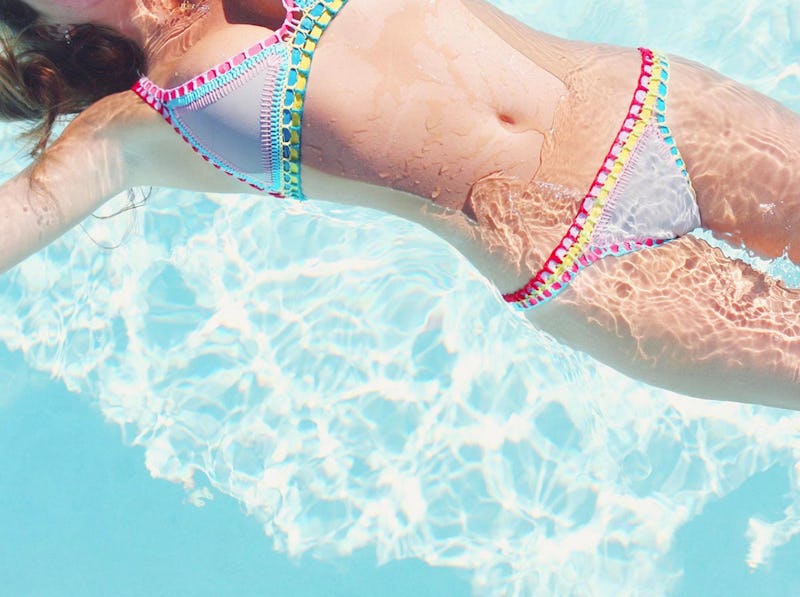 One quick Instagram search proves that #kiini bikinis are all the rage this summer as throngs of trendsetters flee to the beach. The swimwear, dreamed up in New York by Turkish born designer Ipek Irgit, can be found starring in some of the most perfectly filtered, sand-filled vacation photos of fashion bloggers and fashionistas alike. And it is no wonder: Between the bright colors and eye catching details, the uniquely crocheted separates are bringing back Boho with a modern, almost whimsical twist.
Irgit, the self-proclaimed conspirator of the latest "it suit," was inspired to create a bikini with the "perfect shape and material that embodies the bohemian vibe," yet was still "modern and chic," she told W Magazine. A lover of Brazilian swimwear, the designer found herself only purchasing bathing suits while traveling, as these were the types of styles she felt fit her properly. So, in need of a bikini for herself and inspired by the shape and cut of all the international pieces she had purchased over the years, Irgit set out to create her own line and I'd say it has certainly taken off.
A social media success story, Irgit and her Kiini bikinis have garnered a cult following. Not only do the color combinations and woven patterns scream summer fun, they are also constructed using a combination of crochet, elastic, and high tech fabrics for an end result that boasts a secure fit — perfect for everything from sunning by the pool to catching a wave — with no clasps, buckles, or ties to fuss over. Kiini bikinis also claim to "unleash superpowers such and supreme positivity," which is hard to argue with when scanning through the Instagrams of all the happy beach-goers suited up.
Are you hooked on those Boho beach vibes yet? Well, if you are, you can pre-order your new beachwear directly from the Kiini website or, if you simply can't wait another day, you can head over to any of the online retailers listed on the site and scoop one up before your weekend jaunt to the seaside.
Tasmin- Top, $165, Kiini | Tasmin-Bottom, $120, Kiini
If this bikini just isn't the right style for you, but the crochet trend is totally your beach jam, check out the various other ways to rock that open weave this summer — from one-piece suits to comfy caftans — and in all sizes.
Bright And Sunny Boho
Crochet Swimsuit, $128, Free People
White Hot One-Piece
Crochet Natural Support One-Piece Swimsuit, $89, Torrid
Tribal Triangle
Crocheted Lace Bikini Top, $11, Forever 21 | Crocheted Lace Bikini Bottom, $9, Forever 21
Orange Crochet Crush
Strappy Bandeau Crochet Bikini Top, $17, Forever 21
Black And White And Crochet All Over
Rena Crochet Playuela Top, $70, Billabong
Crocheted Bandeau Bombshell
Crocheted Bandeau Bikini Top, $60, Lane Bryant
High Waisted Bohemian Bottoms
Crochet Triangle Top, $80, Free People | Crochet High Waisted Bottoms, $85, Free People
Sultry Scarlet Crochet
Swim Sexy Scarlet Crochet Underwire Bikini, $38, Swimsuits For All
Earthy Stripes
Somewhere Over The Striped Triangle Top, $103, Free People | Striped Cheeky Bottom, $83, Free People
Blue Crush
Becca Etc. Ritual Crocheted Swim Top, $88, Nordstrom | Becca Etc. Ritual Crocheted Swim Bottoms, $84, Nordstrom
Brightly Crocheted Caftan
Phax Crochet Detail Beach Caftan, $57, ASOS
Open-Weave Tunic
Black V-Neck Crochet Tunic, $38, Swimsuits For All
Dip-Dye Fringe Carry All
Forgotten Soundz Crossbody Bag, $45, Billabong
All Fringe, All The Time Crossbody
Cascading Fringe Crossbody, $98, Free People
Woven, Beach Walking Sandal
Seascape Daze Sandal, $40, Billabong
Whatever you decide to wear, may your beach days all unleash supreme positivity, just like Irgit's Kiini bikinis claim to — Boho or not, only happy, sunny vibes are allowed in the summer.
Images: Kiini; livmort, fabel_amar, kiini/Instagram; Courtesy Brands