'Jurassic World' & Women Win The Box Office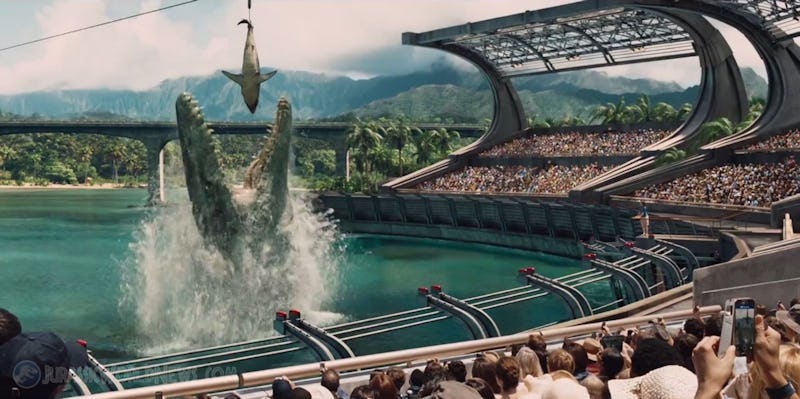 Well, it's a wonderful day at Jurassic World. The new Jurassic Park sequel has finally debuted at the box office and it's already raking in huge numbers for the team. Jurassic World has surpassed all of the Harry Potter films, The Avengers: Age of Ultron, all of the Batman films and many other hit movies to have the second biggest opening weekend of all time with more than $204 million in almost 4300 movie theaters. That's just shy of Marvel's The Avengers, which still holds the top spot at more than $207 million in its opening weekend. If I were Chris Pratt, Bryce Dallas Howard, director Colin Trevorrow, or really anyone involved with Jurassic World right now, I'd be celebrating big time.
Now, while these numbers are great for the team in general and for the future of the Jurassic Park franchise, it still makes me sad to see that there really weren't many great female characters in the story. But here's a consolation prize: Out of the top 10 highest grossing films at the box office for the weekend, half of them star strong women in important roles.
And while they may not have beaten Jurassic World, they were still hugely successful: the second highest grossing movie of the weekend is Spy, starring the one and only Melissa McCarthy.
And then there's Insidious: Chapter 3, which may not be the best entry in the horror genre, but it stars Stefanie Scott in a lead role as the girl being attacked by a malevolent spirit, and Lin Shaye reprising her part as Elise Rainier. The Top 10 box office movies also include the girl power film Pitch Perfect 2 (which was also directed by a woman!), and Mad Max: Fury Road, which stars Charlize Theron in perhaps the most badass role of the film, Imperator Furiosa. Finally, Tomorrowland stars Britt Robertson in the lead role alongside George Clooney. Hell, even The Avengers: Age Of Ultron has Black Widow, though we all know and most likely all agree she needs more screen time to kick ass and less time romancing the Hulk.
So while Jurassic World may have its issues portraying women onscreen (Bryce Dallas Howard, you deserved so much better!), at least we can take comfort in knowing that Hollywood is slowly but surely attempting a few changes regarding women in film. It'll take some time, of course, as there will always be people who don't embrace the idea of gender equality and powerful women on-screen, but hopefully, those minds will be changed eventually. I don't know about y'all, but I'm ready for the next record-breaking film at the box office to be led by a woman, in front of and behind the screen.
Images: Universal Pictures