11 Cool Ribcage Tattoo Ideas You Should Consider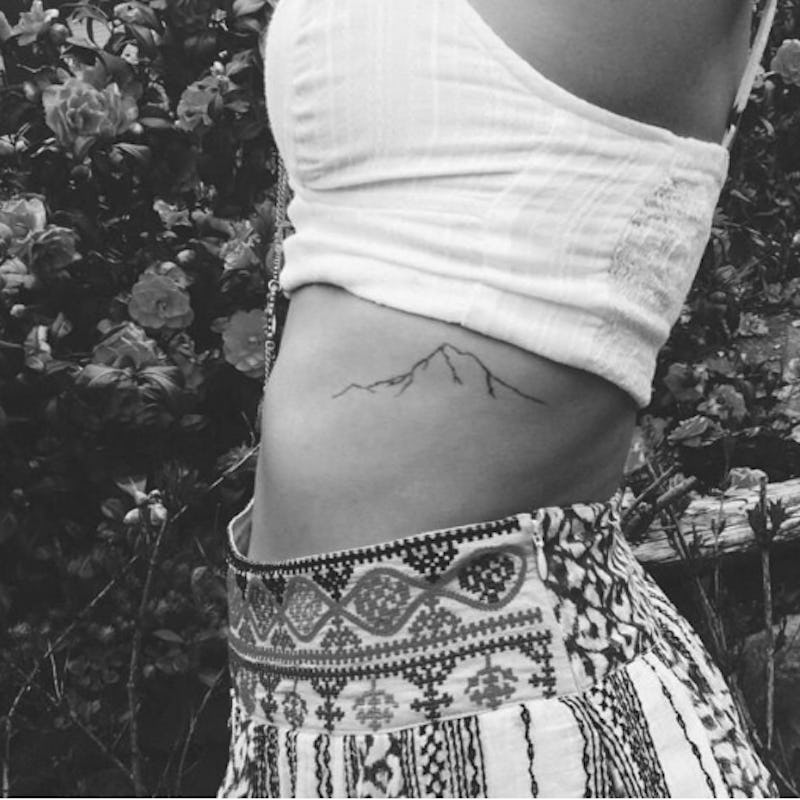 There is no doubt that cool ribcage tattoos are incredibly sexy. Catching a glimpse of the subtle and totally cool ribcage tattoo leaves intrigue and still something to the imagination. This is currently a go-to location for anyone craving a tattoo that fears their parents, employers, or any of the usual social stigmas that go along with getting ink done. Ribcage tattoos could arguably be the new lower back tat, but let's just hope no one comes up with an offensive, not so clever nickname like the tramp stamp for it.
My ribcage tattoo was my 10th tattoo and obviously, I'm not trying to hide my tattoos; however, this tattoo was not something I had chosen. I was participating in a lengthy art project of a friend which required his subjects to get tattoos of library stamps, the date of the library stamp was to mark the day of the tattoo. Having a few unreturned library books from high school currently still on my book shelf, I figured perhaps this permanent stamp would pay tribute to the Hudson Memorial Library that is missing the works of Lord Byron for the past 15 or so years. Due to the incredibly sexy location of my library stamp tattoo, it ended up being something I wanted everyone to see. Unfortunately, getting my tat in the winter meant that only myself and a few chosen others got to ever experience this cool new tat.
Personally, I'm not sure you can go wrong with a ribcage tattoo as long as it's something you can live with forever, chances are you are going to chose wisely. Of course, everyone needs inspiration from time to time — if you're having trouble dreaming up the perfect tattoo then check out these brilliant ribcage tattoos for creative stimulation.
1. A Cool Bird Tat
An outline of a bird will have you flying to the tattoo shop, simple, cute, and forever cool.
2. Geometric Tattoo
You can go big or small with geometric tattoos, but either way, your sick ink is protected by a shirt when you want to keep it hidden. Not that anyone would want to hide this beautiful ribcage tat.
3. One Word
Here is a moment you will never forget: Getting a ribcage tattoo.
4. Cool Quote
A powerful quote on your ribs keeps the words close to your heart.
5. A Tiny Design
This horse skull is super cute and badass, showing you can get real creative with ribcage tattoos. And if skulls aren't your thing...hey, maybe a cool mountain will do the trick.
6. A Camera
Your ribs can be a difficult canvas to work with, depending on how your body is built, but nonetheless this Nikon camera must have been worth the pain because it is stunning.
7. More Quotes
Speaking of pain, this quote speaks volumes when tattooing the fragile skin on the ribcage. Breathe in, breathe out, the pain will be worth it tomorrow.
8. Flowers
You really can't go wrong when you get floral ink in my opinion, get yourself a great artist and a plan? Suddenly, crop tops are an all-year round thing because you just can't stop showing off your new rib tat.
9. Books
Your ribs are the perfect place to put your hobbies, passions, and favorite things. This George R. R. Martin quote couldn't be more perfect.
10. Arrows
As if anyone needed another reason to love the side-boob, these arrows are a perfect reason to be showing off your ribs.
11. Feathers
The amount of different feathers to choose from can be overwhelming, but this owl feather is perfectly placed on the ribs and completely breathtaking.
Images: Kristin Collins Jackson (1)