NYC's Puerto Rican Day Parade Was One Crazy Party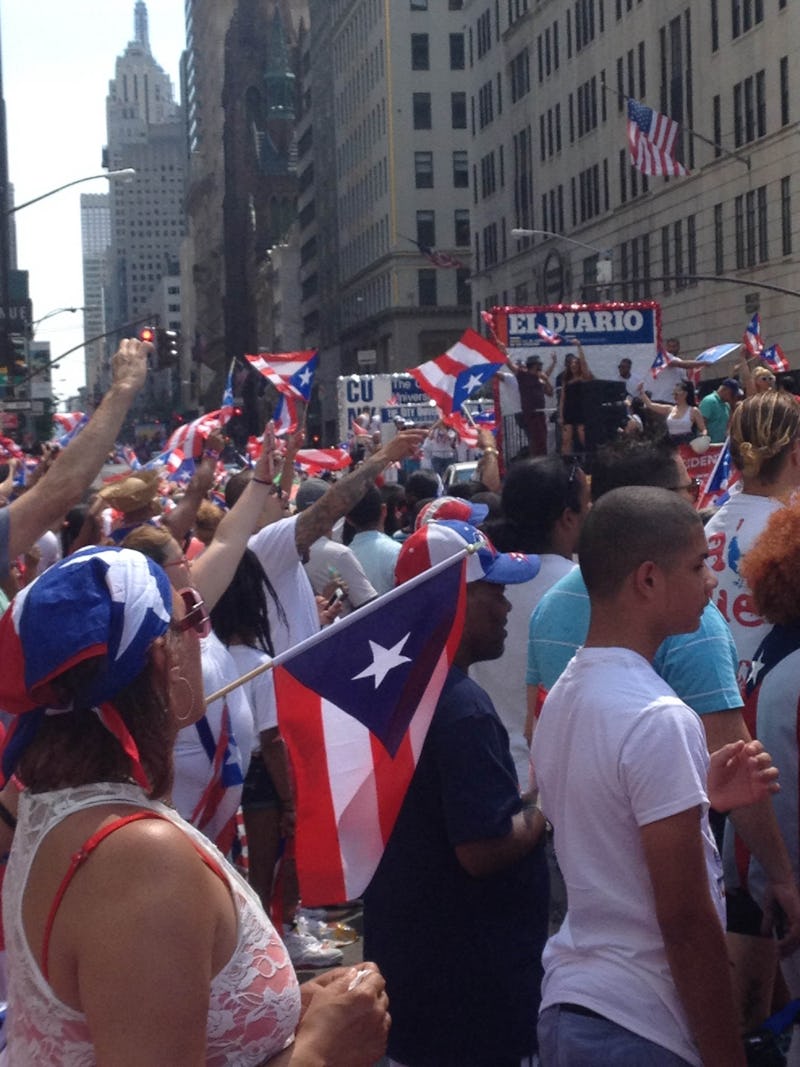 New York's Fifth Avenue hosted more than its usual shoppers strolling the park Sunday. Bringing more raucous noise and a lot more fun than a normal weekend scene, the 58th annual National Puerto Rican Day Parade took over midtown Manhattan. Led by Puerto Rico Gov. Alejandro Garcia Padilla, the parade hosted anywhere between 15,000 and 20,000 attendees.
And, not to be outdone by any other New York City Gatsby-sized bash, the parade included a few notable celebrity guests. Past grand marshals have included Broadway legend Chita Rivera in 2013, and singer Ricky Martin in 2010, and singer and actor Marc Anthony in 2007, who performed in the parade with his then-wife Jennifer Lopez. The parade — a celebration of pride, culture, and music — has a rich history of lauding the achievements of Puerto Ricans in the United States, and the parade is always a good time for anyone looking for a little extra party boost on an otherwise casual Sunday.
This year, another performing legend took her spot as the central focus of the parade. Rita Moreno, recognized early in her career for her powerful turn as Anita in the 1961 film West Side Story, stepped off her perch in her convertible to show off her dance moves with parade performers, reported ABC Eyewitness News. Moreno, 83, took a few turns with Roman Catholic Cardinal Timothy Dolan during the festivities, keeping the good party vibes flowing throughout the day.
The parade, first held on April 13, 1958, takes place every second Sunday in June and celebrates the number of Puerto Ricans who were born in or reside in the United States. This year, the parade honored the 50th anniversary of the death of Puerto Rican attorney and politician Pedro Albizu Campos, who, Democracy Now reported, led the Nationalist Party and the Puerto Rican independence movement. Campos' work toward social justice fits with the parade's original purpose, which allowed Puerto Ricans to celebrate their hard work to earn a life for themselves in the United States.
Distracting from its usual celebratory tone, the parade also made the news in 2000 when women reported sexual assaults by a group of men during the festivities. The reported assaults stood out in a year when crime began to drop in the city under then-Mayor Rudy Giuliani's leadership, according to The New York Times.
The day, above all else, is one for dancing, singing, and sure, a legendary Broadway star grooving to a lively beat on Fifth Avenue with a Roman Catholic Cardinal. And just like Moreno, the tradition parties on.
Images: Natalie Hogan/Bustle (3)