See What Happens When Dudes Do Fake Eyelashes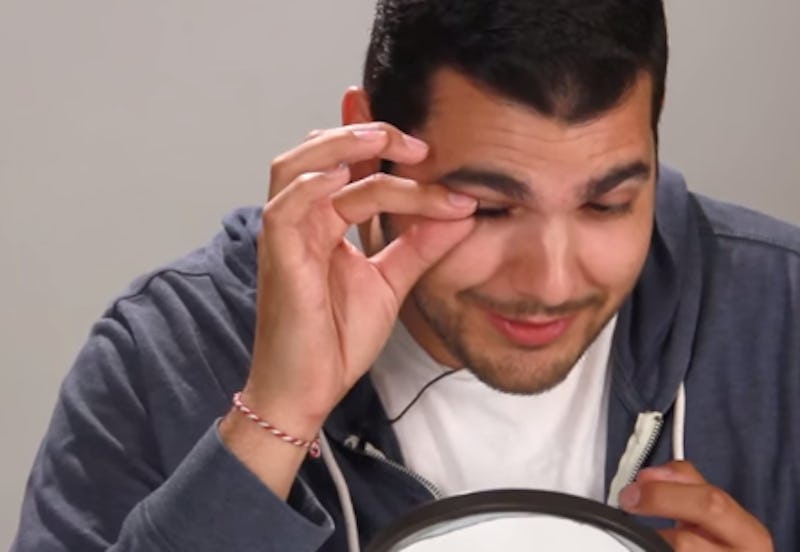 Applying false lashes is an art that requires an ample degree of dexterity, not to mention plenty of patience, since the end result is faboosh! When a bunch of guys tried fake eyelashes, they were game and good-humored, but they failed somewhat epically. Well, most of them did, but there were a few who ended up looking fabulous and Lady Gaga-like with their bad selves (and their extra lush lashes). This Buzzfeed social experiment provided quite a few belly laughs, as the fine young gents tried to apply the adhesive glue to the lash and attempted to get the falsies as close to the real lashline as possible. It's hard, isn't it, boys?
They emerged from their process with a new appreciation for how hard it is to do something so tedious. One of the false lash triers even said that girls should diffuse bombs since they are good with time-consuming, vigilant tasks such as this. Of course the most outrageous, feathered, brightly colored, and glittery lashes looked the silliest on the boys, but a few went with basic, elongating, and darker-hued lashes, fluttering and batting them in pretty fashion.
These are the funniest reactions and responses to trying to apply a strip of falsies to enhance the eye and elongate the lashes that are already in existence.
One gent asked if girls wear "eyelash extensions!" That's a totally different thing than falsies, dude!
I understand that this guy had trouble with the idea of applying glue to your face or near your eyes, noting that such an action should elicit an immediate "No." That's totally logical thinking, but as long as you are careful...
He was getting close, but he glued his eyes shut! Oops.
This guy thought that the lash glue resembled semen. #Really.
Going for it!
Mind the gap! This gentleman was not using a light touch...at all! That's critical. But he still ended up looking good with lashes.
Did he even use a mirror! So cute, right? Lurve him!
Oops! It was like a winged liner and false lashes mashup, er, fail. He said he felt like Lady Gaga at the end, because of course he did.
See, fake eyelashes really do accentuate the eyes! He has beautiful eyes and didn't even know it until now. Love those Twiggy-like falsies.
This lash look was so subtle, but he didn't love it and felt like he had a piece of hair in his eye.
Working it! This fine young chap said, "I look good, bitch!" and I cannot disagree.
He nabbed an "E" for effort, noting that eyelash application is a "pain in the ass," which isn't untrue. Practice makes perfect, though.
At lease some of these men walked away with a newfound appreciation for lash app'ing.
Watch the video below and prepare for copious chuckling. Every dude in this video was a good sport who made me giggle. Thanks, boys!
Images: YouTube (14)