Where To Buy The Dresses From Dorne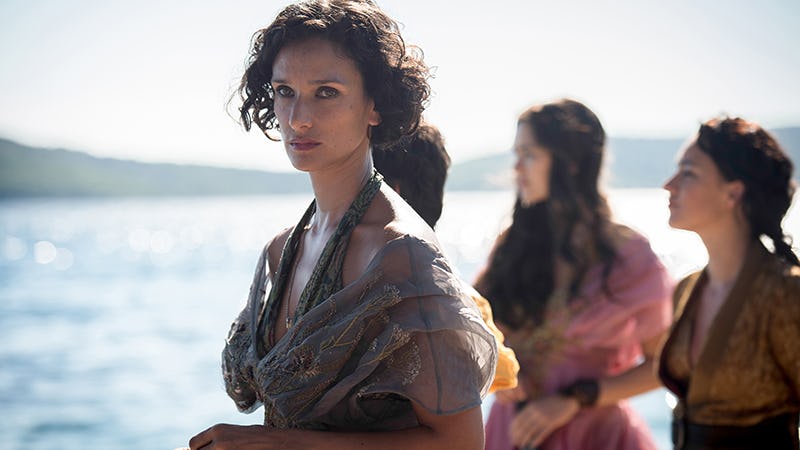 The ladies of Dorne looked absolutely killer during the season 5 finale of Game of Thrones (pun intended). Ellaria, Obara, Nym, and Tyene Sand (aka the Sand Snakes) traded in their prison garb for traditional dresses from Dorne for the last (spoilers ahead), quite murder-y episode of the fifth season. This family of bad-ass women were out for blood this season, and did it in style. Though often wearing battle uniforms, it was their regal dresses that caught my attention. During the final episode of the season, the Sand Snakes wore sheer, colorful gowns that paired perfectly with the ocean front setting. Even though these women don't have the best moral code, they certain have a fierce eye for fashion.
When it comes to the costumes on the show, most pieces are designed by costume designer, Michele Clapton and her design team. This means that each piece is hand-sewn and embroidered to each specific character. Talk about a daunting task! While we may not be lucky enough to have a team of designers on hand, that doesn't mean we can't copy the Sand Snakes' impeccable wardrobes. Long, sheer dresses are absolutely perfect for summer. Whether it's a pool cover-up or a kaftan, it isn't hard to find dresses that embody the style of the ladies of Dorne. While these sheer dresses might not be the best option for concealing weapons, they are the best options for looking amazing.
1. Goddess
Gauzy Statement Dress, $228, freepeople.com
2. Colorful Kaftan
Inca Wool Robe, $440, freepeople.com
3. Royal in White
Burnout Maxi Dress, $280, shopbop.com
4. Sandy Summer Look
Burnt Sienna Dress, $98, freepeople.com
5. Whimsical Warrior
Oh Valencia Kaftan, $128, freepeople.com
6. Empress Chic
Oberoi Maxi Kaftan, $359, freepeople.com
7. Sky Blue Wonder
Sky Blue Formal Dress, $123, lulus.com
8. Lady in Lace
Bell Sleeve Dress, $42.99, charlotterusse.com
9. Blushing Rose
Rose Maxi Dress, $128, freepeople.com
Ellaria would certainly approve.
Images: HBO (3); Courtesy Brands