9 Reasons To Try Sally Hansen Nail Stickers Now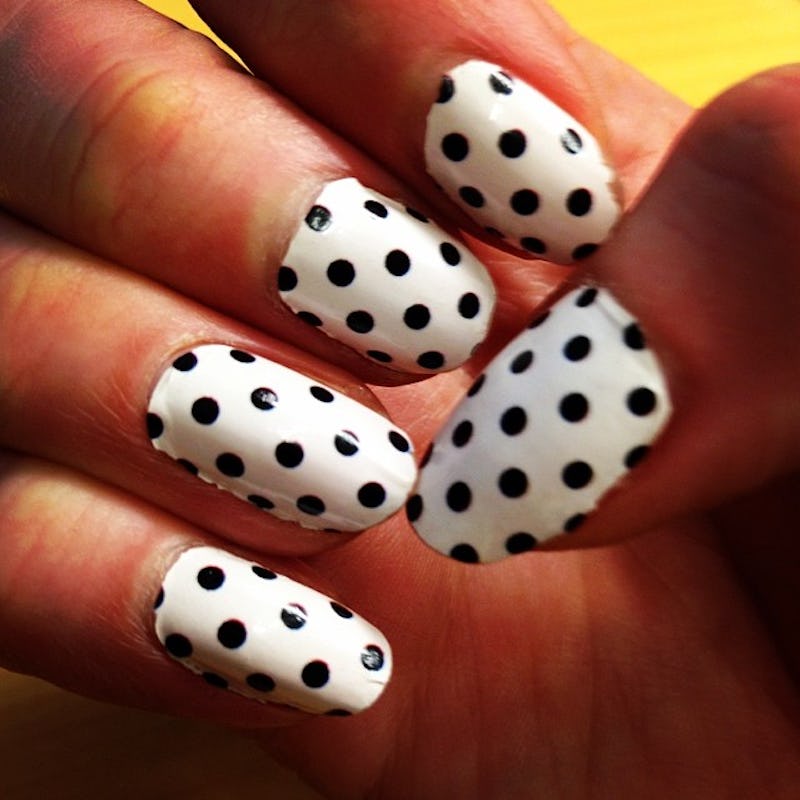 Ever since I found Sally Hansen Nail Stickers, my life has totally changed. Besides my manicurist, there are probably only a handful of people who have seen my naked nails. Maybe it's because my hands are one of my favorite body parts, maybe it's because I still fantasize about becoming a hand model, or maybe it's because it's an easy excuse for a little "me" time, but whatever the reason, I know I'm happier when they're all dressed up.
I know saying nail stickers transformed my existence sounds like total hyperbole, but I swear on a stack of Vogue magazines that my beauty routine has vastly improved since I started wearing them. Although I still occasionally sport liquid nail polish — I've dubbed the iridescent lavender color I'm wearing today "Unicorn Blood" — the Sally Hansen nail stickers are my forever fashion go-to when I want to accessorize.
From their ever-expanding list of styles (Spiderwebs! Tie-Dye! Animal Print!) to the absolute ease of use, I've been endorsing them for years to anyone who's willing to listen to my beauty blather. If you're looking for a way to spice up your nail game, but can't be bothered with the time and energy of a full-on mani session at the salon, just check out why I'm so obsessed:
1. You Can Do Them While You're Commuting To Work
Planes, trains, and automobiles — as long as you're not behind the wheel, you can still do your nails even in a shaky moving vehicle. And since there's no nail polish smell or chance of spilling liquid, your fellow commuters won't start planning your demise when you whip them out.
2. Literally No Drying Time
Stick 'em on and go. Seriously. (But I personally recommend slicking on a clear topcoat to make them last longer).
3. You Can Quickly Do Them At Your Desk
Since there's no odor, no one will realize you're giving yourself a sly desk-side mani while you're "reading" your morning emails. Unlike the majority of thick nail stickers on the market that require you to aggressively file to break off the excess, Sally Hansen's nail stickers are super-thin sheets of actual nail polish; so thin that you don't even need a nail file for any clean up.
4. You Can Make Your Nails Look Awesome Without Having Any Skillz
It'll look like you spent hours crafting intricate patterns, even though you can barely draw a stick figure!
5. There's A Print For Every Occasion
From bats at Halloween, hearts for Valentine's Day, flowers for spring, and snowflakes for winter, you can keep your nails on-theme all year long. If you consider yourself a mix-master, break open two packs — like stripes and polka dots — to really add some optical interest.
6. It's An Instant Conversation Starter
If you're terrible at small talk, these are your savior. I've made new friends, literally stopped traffic, and probably made Sally Hansen a boat-load of sales from all the convos that have been centered around these stickers.
7. They Can Jazz Up The Most Basic Outfits
They're a splash of color in your all-black-everything ensemble. No matter what you wear, you have an instant accessory.
8. You Can Rock Glitter Without Any Mess
Just peel those suckers off when you're done if you want to skip wrapping your digits in aluminum foil.
9. They Come Off With Regular Nail Polish Remover
Since they're made from super-thin sheets of actual nail polish, there's no need to soak and no special tools required.
Images: thelizblack/Instagram