What Will Rachel Dolezal Do Next?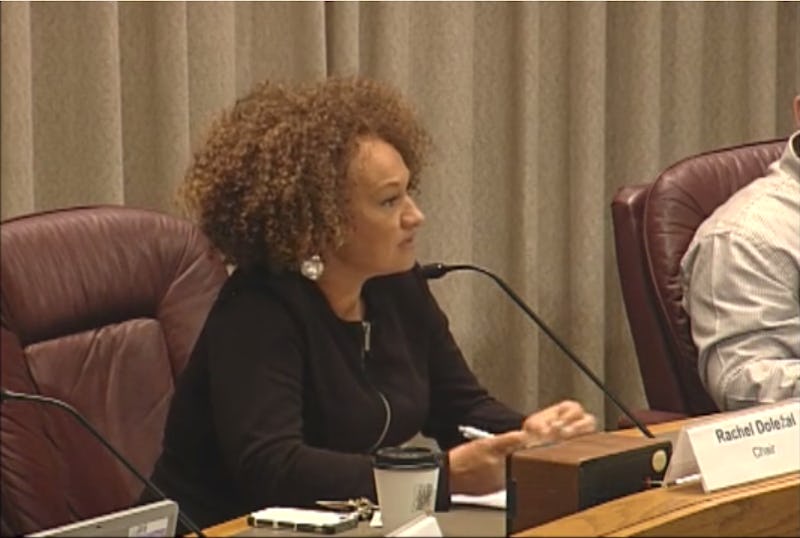 Spokane area NAACP President Rachel Dolezal announced her resignation via the organization chapter's Facebook page on Monday morning after a long weekend of harsh criticism and a petition to oust the activist from her position. Dolezal, who also works as a professor of Africana Studies at Eastern Washington University, had been accused of lying about her ethnicity and violating the city's code of ethics after marking her race as "black" on an official government form to join the citizen police ombudsman commission. Dolezal's parents have claimed that she is white. So now that Dolezal has resigned, what will she do next?
It's possible that the professor could continue her work at Eastern Washington University, given the school's support of her tenure. "Since 2010, Rachel Dolezal has been hired at Eastern Washington University on a quarter by quarter basis as an instructor in the Africana Education program," explained the university in a statement on Friday. "The University does not feel it is appropriate to comment on issues involving her personal life." Officials also stated that it was against university policy to "discuss personnel issues" in a public forum.
That doesn't mean the road won't be bumpy. As early as Friday night, Dolezal had already been pulled from a prominent speaking position at an EWU black student graduation ceremony.
"What we [asked] tonight, and she felt the same way, was, 'What can we do — what's the best support action we could take to make it [the students'] night?" said Director of Africana Studies Scott Finnie in a comment to local CBS affiliate KREM on Friday, adding that their request that Dolezal withdraw from the event was a gesture of goodwill to the students who had been under her tutelage and would be present at the ceremony that night.
Not everyone agreed with Finnie, however, including some of the very students that Dolezal had been charged with instructing. Several have since come forward in the aftermath of last week's events to lend their support.
"We all voted for her ... we wanted her to be the keynote speaker, so to be told that because of her racial identity or what's going on in the media that she [couldn't] do that, that takes away from the students and takes away from what we're celebrating," added the school's Black Student Union president to KREM reporters.
But Dolezal's use of personal anecdotes in teaching her university students might have caused a rift that can't be sewn shut — according to one student on RateMyProfessor.com, the material taught was "definitely interesting, as are her personal stories." Now that Dolezal's parents have come forward with claims that she is white, those stories have been put under a microscope. "What was Rachel Dolezal telling her students?" tweeted one reporter on Friday.
"Rachel's identification with African Americans is not hurtful to us, but for her to reject us as parents, that is what hurts, and the dishonesty is very concerning," said Larry and Ruthanne Dolezal in an interview with The Huffington Post on Friday. They also described their daughter as "very driven, but not always realistic ... [she has a history] of seeking to reinvent reality."
With her professional life on the line, Dolezal, a talented painter and sculptor, has come under fire for alleged artistic plagiarism recently as well. Her hobbies, for which she stands to bring in a little extra income, might unfortunately be out of the question.
In one specific instance, one of Dolezal's paintings, which often center on the struggle of black Americans and African culture, has been cited as a near replica of J.M.W. Turner's 1840 work, "The Slave Ship." Dolezal's "The Shape Of Our Kind" apparently mimics Turner's work so closely that some have questioned the over $5,000 price tag, The Huffington Post reports.
Whatever Dolezal has planned next is anyone's guess. But in the meantime, Dolezal's options are anything but bountiful — a frustrating course of events for the woman who remains invested in her causes.
"Please know I will never stop fighting for human rights and will do everything in my power to help and assist, whether it means stepping up or stepping down, because this is not about me," wrote Dolezal in a post on the Spokane NAACP Facebook page Monday. "It's about justice. This is not me quitting; this is a continuum."
Images: Spokane City/Vimeo