7 Reasons Andrea Iyamah Swimwear's IG Is Amazing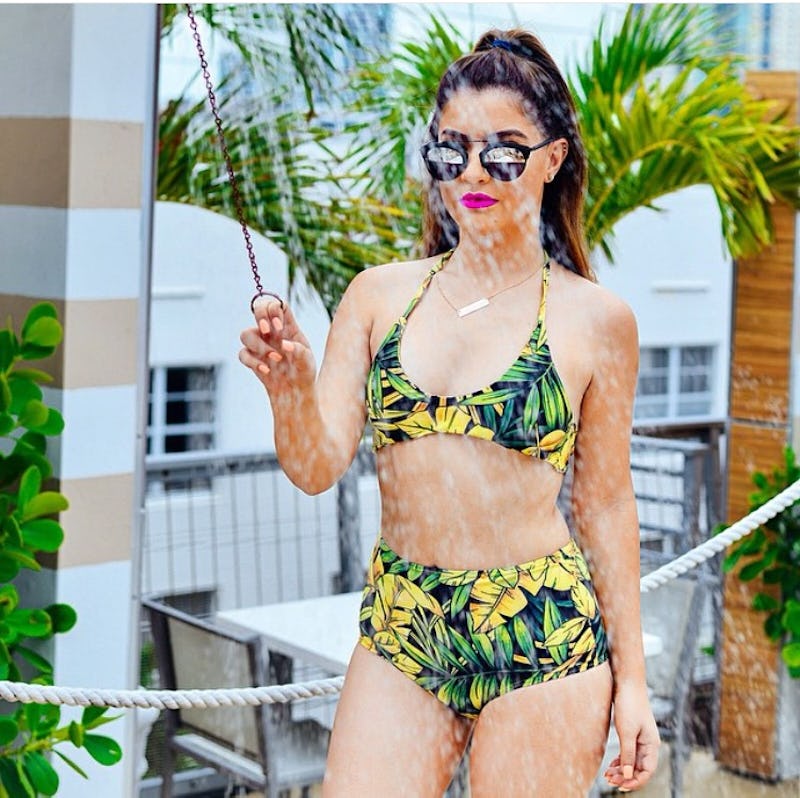 The temperature is steadily rising, which means it is officially swimsuit season. Summer is the time for endless trips to the beach, lake, or pool, so your swimsuit collection must be on point at all times: This is where Andrea Iyamah swimwear comes in.
Instagram is all about its themes, and a swimsuit brand's IG display can easily determine whether or not you'll want to purchase from its site. And I am here to tell you that one of the best swimwear brands with a creative theme on Instagram is Andrea Iyamah.
Andrea Iyamah's account is highly vibrant, with a colorful aesthetic that would make you believe that you are on vacation. From using bold fruit — such as bananas and watermelon — to luxurious vacation photos on yachts and golden, sandy beaches, Iyamah's profile and swimsuits will have you wander-lusting over your next tropical vacation. Plus, did I mention that fashion blogger Nadia Aboulhosn and designer Angela Simmons have been seen wearing these bombshell swimsuits on Instagram as well? I wonder if these ladies became a fan of Andrea Iyamah's suits by following the company's social media account like I did...
But if I did not already have you daydreaming about magical bikinis whilst at your job, here are seven additional reasons why Andrea Iyamah's Instagram will have you lusting over a tropical escapade. I hope you have your passport ready.
1. Its Luxe Vacation Photos
Andrea Iyamah is known for posting true wanderlust-worthy photos of women wearing their swimwear on a tropical beach trip. From fun beach vacations to elegant yacht excursions, women are gracing this Instagram account, showing their amazing swimwear and rather luxurious holidays.
There's nothing I would love more than to be drinking a mojito while soaking up the sun in Iyamah swimwear. Just keep throwing your lovely vacation in my face, why don't you!
2. The Juicy Fruit
I don't know about you, but when I am on a tropical vacation, all I want is fruit (and perhaps some drinks, too). Andrea Iyamah's Instagram will definitely have you envious of the juicy fruit photographed with some lovely swimwear. From grapes to lemons, Iyamah uses fruit for artistic aesthetic.
So keep your Instagram juicy, Iyamah. I am definitely a fan.
3. Every Day Seems Like A Party
Stuck in the office on a Monday afternoon while dreaming that you are partying on a beach? SAME. Iyamah's profile will make you daydream all afternoon about partying in a sea of balloons. I mean, lying in a pile of balloons on a beach after a rave sounds more ideal than eating chips and guacamole at your desk. Am I right?
4. The Fun Color Concepts Theme
Am I the only person who always imagines going on a tropical vacation and taking photos against a bold colored background? The idea of wearing a bold swimsuit and clashing it with a bold background is a fun color concept.
Andrea Iyamah's Instagram is filled with bright hues and flashy patterns in the background of its vibrant swimwear. From high beam yellow to bubblegum pink, Iyamah certainly knows how to add artistic flavor to its Instagram. Let's all add "taking a photo in front of a vibrant backdrop" to our list of things to do while on vacation. Agreed?
5. Traveling With Your Bestie
Why dream of taking a trip alone when you can take one with your best friend? Iyamah will make you want to be total twinsies with your BFF when it comes to swimwear. Its account is filled with best friends rocking matching swimsuits while taking fun photos on vacation.
These two besties are donning identical swimsuits in two different colors, which is way more exciting. Some say that great minds think alike, but I say that best friends think alike. Thanks to Iyamah, I am planning my next beach vacation with my best friend just so we can do this. Are you with me?
6. Vacation Activities
If you need help deciding what kind of fun or relaxing activities to do while on a tropical vacay, look no further than Iyamah's Instagram. This swimwear account is packed with ladies rocking their swimwear while doing various outdoor activities. From playing volleyball to sipping lemonade in the ocean, you can find women doing almost everything you can imagine while on their (and perhaps your) dream trip.
7. Endless Swimwear Options
This is the most important thing about taking a tropical vacation. You must pack at least two fun, vibrant swimsuits in your luggage to show off and stand out in photos. Duh.
This year, I know you will not have a problem finding your dream swimsuit, thanks to Andrea Iyamah. I am a fan of all the bikinis and I'm certain any rational human would concur.
Images: AndreaIyamahSwimwear/Instagram