A New 'Ship Is Sailing On 'OITNB'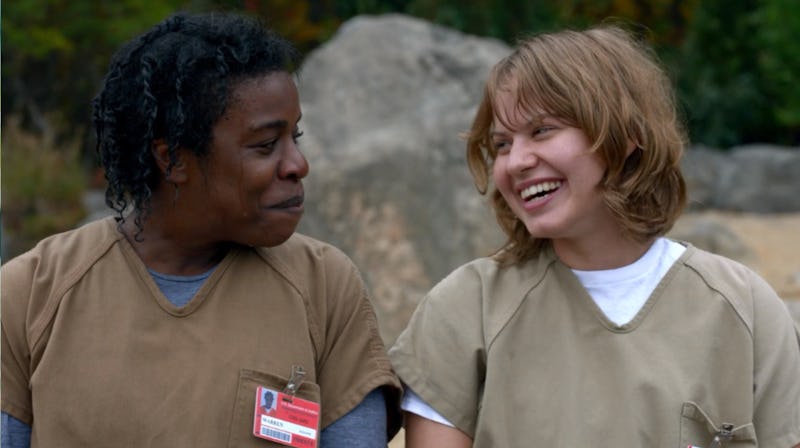 There's a new Dandelion in town. How cute is the blossoming relationship between Crazy Eyes and — wait, what's her name? The new Orange Is The New Black inmate is Maureen Kukudio, played by actress Emily Althaus. We've seen her in the drama class but Maureen really broke out on the Netflix series in this pairing.
You may have seen Emily Althaus before on Law & Order: Special Victims Unit, Blue Bloods or the TV movie Sharing. She is also a theater actress who performed in Harvey with Jim Parsons and Carol Kane back in 2012 at Studio 54. Who does Althaus play on OITNB? If you're not a binge-watcher, beware! There are spoilers below for all 13 episodes of Orange is the New Black Season 3.
The two major themes this season on Orange is the New Black — faith and fetishes — combined with Suzanne's arc about The Time Hump Chronicles. She starts writing an erotic science fiction epic that captures minds and inspires worship from her fellow inmates. Her following is incessant on knowing what's going to happen next to their favorite characters. Not only is it a fun meta-conversation about the way fans react to and take ownership of their beloved content these days, but it gave us a fun introduction to this relationship. Maureen was attracted to Suzanne's creative talent, and worked up the nerve to approach her.
Maureen's flirtation with Suzanne mirrors the latter's former attempts to woo Piper way back in Season 1. She writes her a poem! They talked about slanted rhymes! She then asks her out on a "date" in the supply closet, which freaks out the inexperienced Suzanne. Still, the two characters are sweet and well suited together. I can't wait to see more of Maureen as Orange is the New Black continues! She's clearly a natural addition to the cast we well.
I don't want to spoil the end of the season and say what happens between these two — but I've heard it involves turtles. Additionally, I'm really loving how much Taystee has stepped up to watch over Suzanne in Vee's absence this season. This is something that they can bond over and I love how it subtly progresses each of their characters. However, it's time that the inmate formerly known as "Crazy Eyes" had a new love interest. Maureen is adorable and perfect for the job.
Image: screengrab/Netflix