9 Signs You Grew Up With A Feminist Dad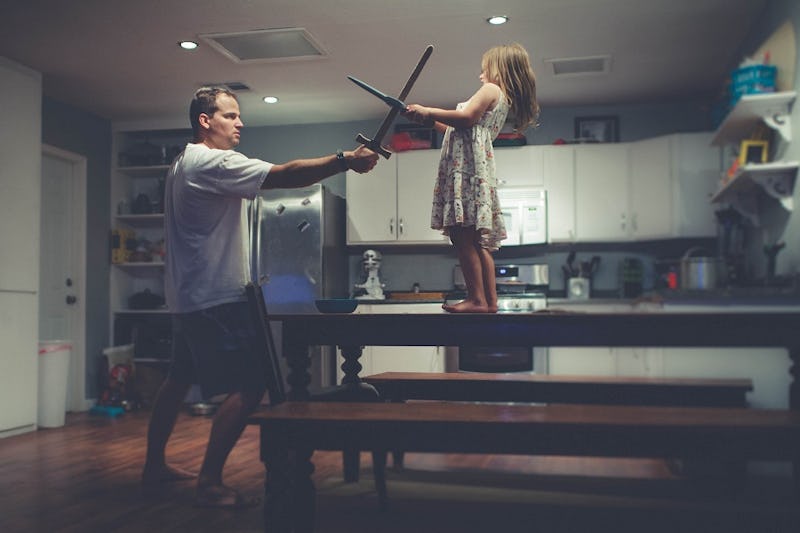 If you don't believe that Father's Day is a feminist holiday, then it's time to brush up on a little history. In 1909, the 27-year-old daughter of a Civil War veteran began her campaign to popularize a single day upon which to recognize the nation's dads. Sonora Smart Dodd, as a woman, wasn't even able to cast a vote when she petitioned large organizations like the YMCA and YWCA, and eventually, Congress, for support in her quest to have Father's Day recognized on a national scale.
Dodd's father raised her and her five siblings as a single father after Dodd's mother passed away during her sixth childbirth. Father's Day was initially scoffed at in its first appearance in front of congress in 1913, which was 100 percent male, three years before the election of Jeannette Rankin in 1916. Though the occasion was observed widely by the 1920s, Sonora Smart Dodd would wait another 59 years before Richard Nixon would sign a bill proclaiming Father's Day an official national holiday.
This Sunday, sons and daughters around the country will be firing up the grill and spending millions of dollars to celebrate dear old dad. And what better way to celebrate fathers than by highlighting the best gift a dad can give his daughter, one that Dodd's father unquestionably imbued in her: feminism!
Here are some signs you grew up with a feminist dad:
1. Your parents are total equals
Even if they're not married anymore, or if they never were, your dad and your mom share equal footing when it comes to making big decisions together. (Cue my dad asserting that my mom is actually completely in charge.) Your dad has absolutely no time for indulging stupid stereotypes or gender roles, and he's taught you over and over again that parenting is a team effort.
2. He cooks as much, if not more, than your mom does
Growing up, your parents shared responsibilities all around your home. Cooking and cleaning were just things that happened inside of the house or in the yard, and nobody ever mentioned "women's work."
3. He taught you about sports, because they're obviously not just "for boys"
My brother could not have cared less about watching sports when we were kids, but instead of retreating to a *man cave* or just watching alone, my dad encouraged my interest. I still follow college and professional sports as a (purported) grownup, I get in hours-long debates with strangers over starting lineup decisions, and I can stand up for my teams' honor whenever people try to talk smack.
4. Your dance recitals are/were just as important as your brother's football games
Your dad doesn't only want to expose you to things that deeply interest him. He was always there for the dance recitals, chorus performances, and even the children's theater shows.
5. He empowers you to be yourself, and you never hear about the things you'll need to change to "find a man"
More than anything, your dad wants you to find a partner who respects you and loves you for the incurable weirdo that you are.
6. He taught you that math is important, science is important, and you should never shy away from being intelligent
When I was in elementary school, my dad coached me to two (out of two... huzzah!) consecutive medals in my school's science fair. In high school, he drove me to every standardized test that I took to get me pumped up and "in the zone" for kicking its multiple-choice-booty. Achievement was never an expectation remotely tied to my gender.
7. He cares about your accomplishments
When discussing your future, he makes a point to emphasize that your achievements matter most because they give you more control of your options as you move through life. If I wanted to be a doctor, or the first female head coach of an NBA basketball team, those were the reasons I should want to get good grades — because my success empowered me to design my own life.
8. He taught you to ask for what you deserve
He always thinks you should ask for a raise, whether or not you should, because he values your skills even if he's never seen them in action. Lean in, baby!
9. And last but not least, he acknowledges that your BBQ skills are actually better than his...
JK... sort of. Happy Father's Day, dad!
Images: amanda tipton/Flickr; Giphy (5)