7 Summer Outfits Perfect For A Conservative Office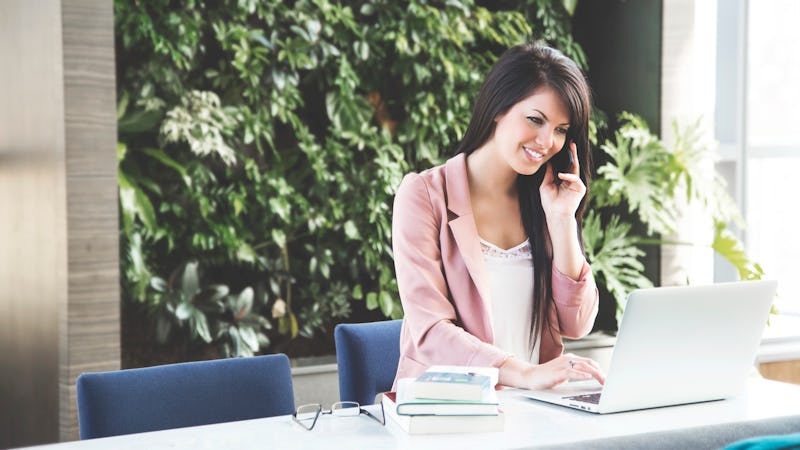 Working in a formal office environment is the ideal excuse to invest in a wardrobe full of luxe classics. Trench coats, tweed pencil skirts, tailored wide-leg trousers, and thick woolen sheaths in color blocked patterns are all acceptable forms of dress for a traditional office. Unfortunately, the flimsy frocks and vaguely bohemian blousons you use to combat summer heat don't fall under the same clothing category. Figuring out summer work outfits that are appropriate for a conservative office feels like a daunting task. After all, attempting to sneak a pair of jorts into a classic corporate setting is a wonderful way to earn yourself a swift boot out the door. However, suffering through 90-degree temperatures in modest, full-coverage clothing rendered in thick fabrics may induce enough perspiration to make you appear as if you've just completed the Ice Bucket Challenge. Nevertheless, if your office refuses to commit to heavy air conditioning when the mercury rises, there are a handful of chic wardrobe hacks to keep you from melting out of your ensemble.
When selecting your summer work wardrobe, pay attention to strategic cuts, breathable fabrics, and handy accessories to keep your ensembles appropriate and breezy. After all, the only thing more office-inappropriate than an employee sporting ultra-revealing clothing is an employee who appears to have run a marathon in her getup.
1. Favor Luxe, Lightweight Fabrics
Save your heavy cashmere, wool, and satin for your winter work wardrobe and refocus your gaze on luxurious, lightweight fabrics. Cotton voile, silk, chambray, and rayon are all excellent materials for summer attire due to their thin consistencies and breathable fabrications.
2. Choose Chiffon
Perhaps one of the most breeziest weather-appropriate fabrics, chiffon can be as sultry or sweet as you wish. A long-sleeved chiffon dress is well-suited to formal meetings, while a multi-layered skirt that hits at the knee offers a hint of skin while remaining demure.
3. Lose Yourself In Layers
Attempting to saunter to your desk in a strapless top or halter design is ill-advised — unless you layer strategically on top. Whether you prefer a blazer, lightweight knit pullover, or cropped cardigan, you can use thin layers to disguise an ostentatious top without smothering your skin.
4. Choose A Midi Silhouette
You may not be able to get away with a ruffled mini skirt in a conservative office, but a flared midi is well within your sartorial rights as long as your chosen pattern isn't too extraordinary. Pair the look with a silk tee-shirt or a simple button-down for maximum impact.
5. Embrace Illusion-Wear
There is a loophole to every rule, and in terms of office-approved fashion, illusion paneling is the penultimate. Whether you skate around a skirt length regulation by sporting a midi skirt with a several layers of sheer chiffon atop a mini silhouette or your demure silk top features a silk illusion neckline, embrace the illusion trend for sultry summer days.
6. Keep A Scarf Handy
If you must wear a sleeveless top or a blouse that plunges, keep a silk or cotton scarf at hand to drape across your shoulders in case of an unexpected meeting or criticism from your manager.
7. Couple Up With Culottes
If you adore the notion of wearing shorts to the office but the dress code prevents such a transgression, get thee to a boutique and snap up a pair of culottes in a neutral hue. An on-trend cross between shorts and a skirt, wide-leg culottes in a rich fabric are buttoned-up enough for the office and light enough to keep your legs cool.
Image: Robert Servais/Unsplash