The Charleston Shooting Suspect Has Been ID'd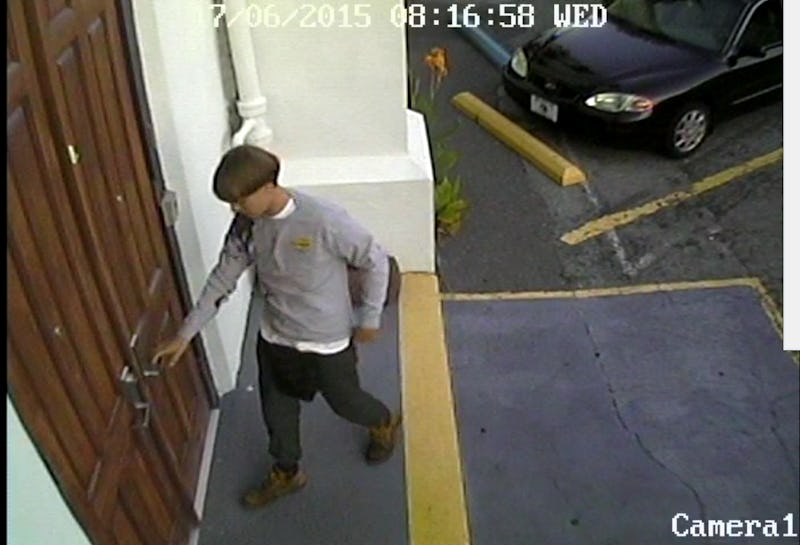 On Wednesday night, a shooter opened fire at one of the nation's oldest black churches, Emanuel AME Church in Charleston, South Carolina, after attending an almost hour-long prayer meeting with those who would later become his victims. Nine people were killed. By Thursday morning, a gigantic manhunt had ensued, and the Charleston Police Department released a series of photos of the suspect, whom the department has described as being white and roughly 5''9. Local police chief Greg Mullen has openly called the shooting a hate crime, and the church targeted specifically because it's historically black. So what do we know about the Charleston shooter, named as Dylann Storm Roof, who has been described by Mullen as a "very dangerous individual" who remains on the loose? (Update: Roof has been taken into custody.)
Here's what we know about Roof so far: He's a 21-year-old from Lexington County, South Carolina, who prior to the shooting was being investigated for his role in drug and trespassing crimes. His uncle told Reuters that Roof had received a gun for his birthday this past April, and that he had recognized Roof from the images released by police.
According to a shooting survivor, the suspect allegedly said before the gunfire: "I have to do it ... You rape our women and you're taking over our country. And you have to go," the New York Times reports.
Both the Justice Department and the FBI have opened investigations into what they're treating as a hate crime, and Mullen said in a press conference early Thursday that the community and others nearby should be aware of the shooter, considered armed and dangerous by authorities. "He has on a very distinctive sweatshirt as well as the vehicle, with a very distinctive license plate," Mullen said, referring to the gray sweatshirt the shooter was wearing at the time of the incident, and the vanity license plate on his four-door black sedan. He was also wearing Timberland boots.
"He should not be approached by anyone," Mullen warned. He advised anybody who believed they saw the shooter to call 1-800-CALL-FBI. A reward for identifying the shooter will be offered later Thursday. Anyone with information on who the shooter may be is encouraged to call Charleston police at 843-743-7200.
Images: Charleston Police Department