Charleston Shooter Had A Criminal Record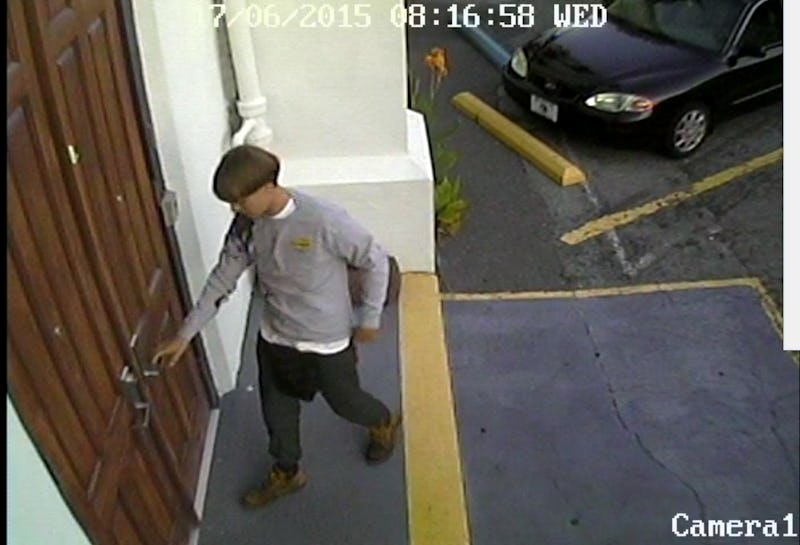 On Thursday, the FBI publicly identified the young man the agency believes to be responsible for Wednesday night's Charleston Emanuel AME Church shooting: Dylann Stom Roof, a 21-year-old from Lexington County. Storm Roof had an arrest record prior to the shooting, which left nine people dead: in March, Roof been investigated by South Carolina authorities for his role in drug and trespassing crimes. Local Charleston newspaper The Post And Courier reported Thursday that Roof had been out on bond after his arrest in relation to the crimes, but the specifics of those low-level crimes — the exact nature of the drug charges, for example — weren't specified. A mugshot taken of Storm when he was initially arrested circulated widely Thursday morning. (Update: The Associated Press reports that Roof had one felony drug charge and one misdemeanor on his record.)
The shooting is being widely regarded as a hate crime, including by the Justice Department and the Charleston police department. A survivor of the shooting recounted that the gunman had allegedly told her: "I have to do it ... You rape our women and you're taking over our country. And you have to go," according to the New York Times.
At a press conference following Roof's capture, Charleston police said that Roof had been arrested during a routine traffic stop.
Roof's uncle told Reuters Thursday that he had recognized his nephew from the photos circulated by the Charleston Police Department, and that Roof had been given a handgun as a birthday gift in April.
A gigantic manhunt was launched to track down Storm overnight, and the police department vowed that no stone would be left unturned to find Roof and hold him responsible. "We are leaving no stone unturned," police chief Greg Mullen said in a press conference Thursday. Later Thursday morning, Roof was captured and taken into custody in Shelby, North Carolina.