'The Crimson Field' Has Impressive Inspirations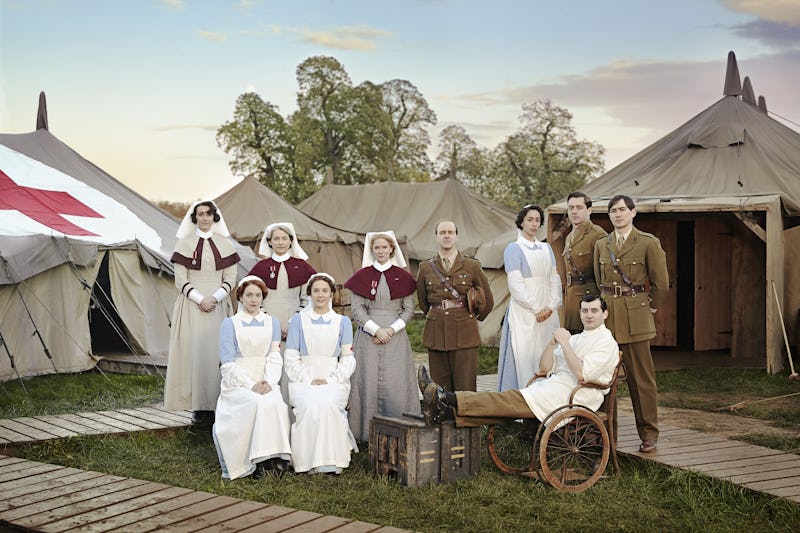 In order to commemorate the 100 year anniversary of World War I, the BBC has started a whole programming slate celebrating the various unknown or lesser known stories of the war, and one of the first is 2014's The Crimson Field. It tells the story of the Voluntary Aid Detachment, or VAD, groups of female nurses volunteering to help on the front lines of the war. The Crimson Field, which is based on a true story but features fictional characters, takes place on the French front, where a few new VADs arrive and start working to heal wounded soldiers from the front lines. The show draws its drama from the way these women and men work together, breaking every social convention of the time. For example, the lead character, Oona Chaplin's Kitty Trevelyan, winds up in a flirtation with not one, but two surgeons.
The real story of the VAD ties into the proud history of the Red Cross. And, the Red Cross details all of the different jobs the VAD took on, which extends past just nursing duties and into transportation, organizing air raids, training new volunteers, among other things. Because of this, the British World War I effort enveloped much of the country, and plenty of people who normally would have no connection to the military wound up working for the war effort. On The Crimson Field, these women came from many backgrounds, many of them wealthy enough that they'd never had to hold jobs outside of their homes before. The cast also features other women who are working on the lines, like nuns and professionally trained nurses. And, there are men, as well, from the soldiers to surgeons and male members of the VAD.
Unfortunately, the show was already cancelled after just one season, so it will be more of a limited series than an ongoing storyline, and a glimpse rather than an extended look at this part of the war. But, since the show has been out for over a year, and has received plenty of passionate fans, there could be a chance that it's brought back after the American run. That would make writer Sarah Phelps very happy, who broke the news of the cancellation.
But, in the case that there is no more Crimson Field to be had, viewers can look for more programming inspired by the true stories behind the first World War to be coming soon to the BBC. It should last through 2018, when the centennial of the end of the war will be celebrated. Until then, watching the American run of The Crimson Field should be a great start to commemorating the real volunteers who helped the British succeed and ultimately make it through WWI.
Images: Todd Antony/BBC (2)