'Grandma' Trailer Proves Lily Tomlin Rocks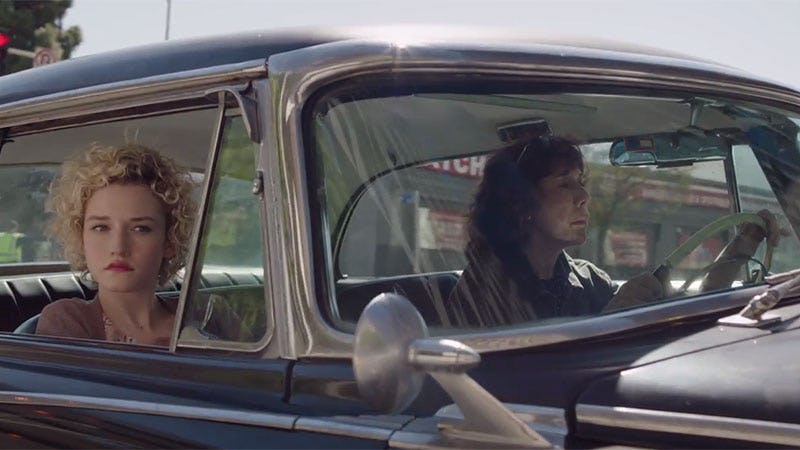 If you think your grandparents are cool, you haven't seen anything yet. Taking a break from co-starring in everyone's new favorite Netflix show (aka, Grace & Frankie), Lily Tomlin has taken on a role in Grandma — and, judging by the trailer that just dropped for the upcoming film, it looks absolutely amazing.
Based off the trailer, the movie centers around Elle, Lily Tomlin's character, and her relationship with her 18-year-old granddaughter, Sage. Sage just announced she's pregnant and the baby daddy is a rather... unwashed Nat Wolff. Though just two minutes long, the trailer establishes one thing: Elle is a force to be reckoned with. Whether she's asserting her motherly authority over her daughter/Sage's mom — played by a pink pantsuit-clad Marcia Gay Harden — or schooling Wolff's character, I'm in awe.
The movie comes to us fresh from the Sundance and TriBeCa film festivals, which pretty much confirms it will be as good as the trailer promises. According to Grandma 's official site, it will hit New York and Los Angeles theaters on August 21. Other cities are given the ominous "coming soon" label. Until then, you can check out seven times Lily Tomlin was straight-up awesome in the trailer via the photos below.
When She Did Not Take Crap From Nat Wolff
Yes, that's a hockey stick.
When She Was Not There For Marcia Gay Harden's Lecture
"Are you saying I'm 'any idiot'?"
When She Encouraged Her Granddaughter To Stick Up For Herself
Because every woman should aspire to be this fierce.
When Laverne Cox Gave Her A Tattoo
Fun fact: Cox's character's name is "Deathy."
When She Taught Her Granddaughter About Feminism
Not to be confused with the X-Men character, apparently.
When She Informed John Cho That All Coffee Is Drip Coffee
*Drops mic*
When This Touching Moment Confirmed She's The Best
Serious chills. Is it August 21 yet?
Check out the full trailer below:
Images: Sony (8)