This May Be The Easiest Way To Trade In Clothes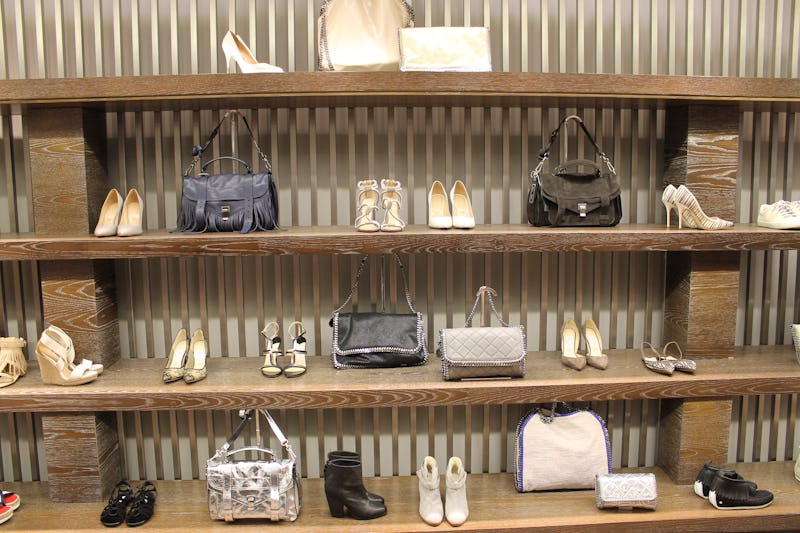 If you're reading this website then you most likely enjoy fashion, and chances are you might have some designer piece squirreled away in your apartment, where it's just sitting, gathering dust. To help assist us clothing hoarders, the luxury fashion trade-in service Material Wrld and Intermix have partnered to offer monthly in-store trade-in events through December at select locations in New York City, Chicago, Boston, DC, Philadelphia and Miami. Instead of sending your new or gently used designer goods to the thrift store and hoping they'll accept what you have, you can pop by at specific Intermix stores and have your items priced instantly by Material Wrld's educated staff. (To save yourself some time, go to Material Wrld's website to see which brands and types of items they welcome.)
Maybe it's something from your favorite designer, but you've out-grown it, or maybe a well-meaning relative gifted you a high-end bag that you know came with a hefty price tag, but it's just so not your style. You've thought about posting it on one of those resale sites, but then you'd have to take photos, figure out a price, haggle with buyers, ship things out, wait for the money to post in your account — seems like a hassle. With this Intermix and Material Wrld collaboration, there's really no excuse anymore.
Unlike other similar resale sites, Material Wrld offers you on-the-spot trade-ins on their website in exchange for gift cards to your favorite stores like Bloomingdale's, Barneys, Shopbop, Nordstrom and more. (You will only be able to get Intermix gift cards at the in-store trade-in events). So although you won't leave with a fistful of dollars, you will have an awesome excuse to pick up some new goodies to fill all the shelf space you're about to have.
Stop by Intermix at 210 Columbus Avenue, NYC from June 18-20 to trade in your new & used designer items and rejuvenate your wardrobe with exciting fresh things from Intermix! Not located in Manhattan? Then take a look below to see what month they'll be in your area, and subscribe to Material Wrld and Intermix's newsletters for more info.
June 18-20: INTERMIX Columbus: New York, NY
July: INTERMIX Rush Street: Chicago, IL
August: INTERMIX Chestnut Hill: Boston, MA
September: INTERMIX Georgetown: Washington, DC
October: INTERMIX Madison Avenue: New York, NY
November: INTERMIX Philadelphia: Philadelphia, PA
December: INTERMIX Bal Harbour: Miami, FL
Images: Liz Black (2)