'Nirvana: Unplugged': Turns 20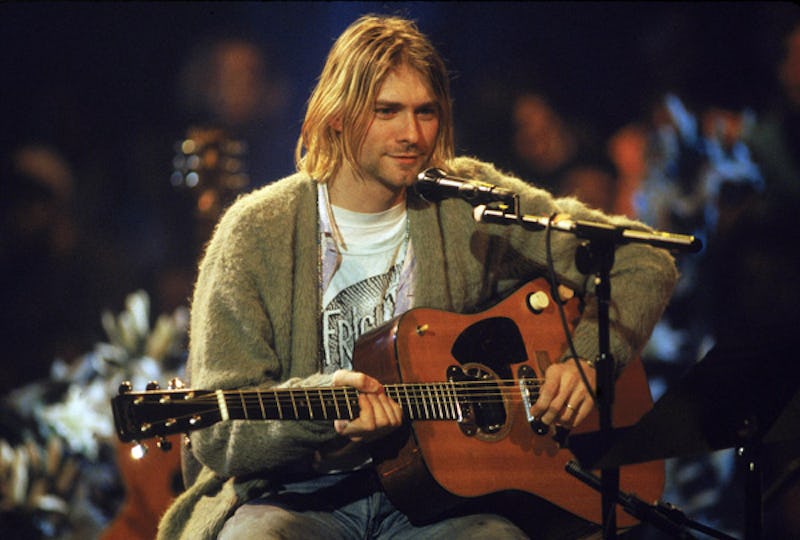 Today marks the twentieth anniversary of Nirvana's MTV Unplugged performance. I repeat: The earth has orbited around the sun 20 times since Nirvana: Unplugged. I know. I didn't believe it either, but I checked. The iconic grunge band's stripped-down set is one of the more memorable Unplugged shows. In fact, if you say the word "unplugged," my mind immediately flashes to Kurt Cobain's nubby tan cardigan and Dave Grohl's ponytail. You say, "Kristie, your phone didn't charge because it's totally unplugged," I think, Nirvana. There are few things quite like that acoustic set.
You don't have to be a Nirvana fan to appreciate how good they were (but what the hell? Why wouldn't you be a Nirvana fan?! Pull it together). And hey, if grunge isn't your thing, the acoustic set might make their music more accessible. You can hone in on the brilliant songwriting. The intimate vibe creates a new, raw energy. It's feelings-fest in the best way.
The beauty of the Unplugged format is that it works for all genres of music. In the 1990s, there were several Unplugged performances that, like the Nirvana performance, were so very wonderful. Oh man, remember '90s MTV? Were we ever so young? The following are excerpts from some of my favorite performances:
Eric Clapton
There's a reason Clapton's Unplugged album won a pile of Grammys. It's phenomenal.
Bjork
My go-to procrastination move is watching Bjork concert videos online, so I've seen her Unplugged performance approximately 63,000 times. The songs are pared down, but the simplicity of the instrumentals show off her crazy-amazing voice.
Alanis Morissette
You almost forget that this is a very angry song. Almost.
Tori Amos
My heart melts into a puddle when I watch this. She's not of this world (in the best way).
The Cure
I'm going to go weep somewhere. Don't mind me. I'll be fine
The Cranberries
Yes. YES. YES!
Mariah Carey
My face hurts from all of the smiling.
Image: MTV