What I Learned By Wearing Sexy Lingerie For A Week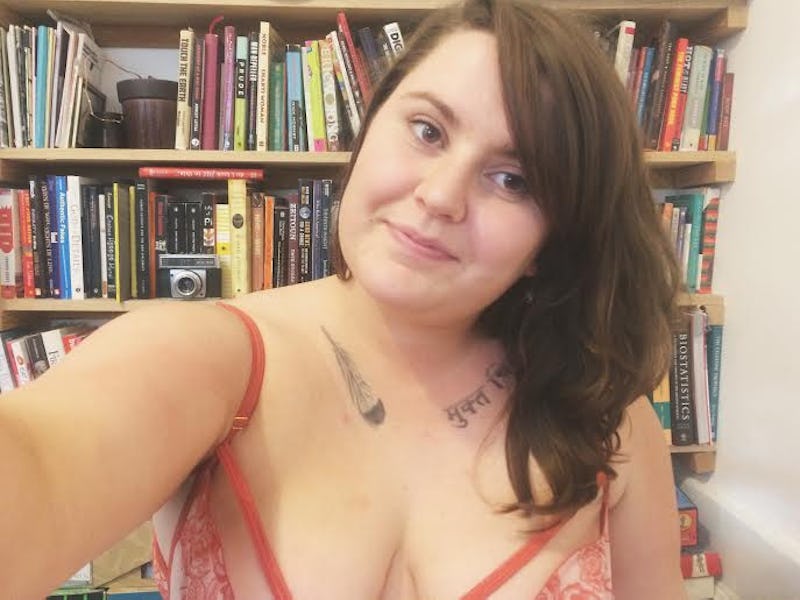 There's probably not a single style or type of lingerie that I don't already own, have owned, or have on an e-commerce wish list to buy sometime soon. Even so, I was skeptical about the relationship between the type of lingerie you wear and its effect on your mood and confidence levels. Having lingerie that makes me feel comfortable, feminine, and sensual is an essential part of both my wardrobe and my self care regimen. It seems frivolous, but having something I can put on each day or slip into when I get home is grounding — even if I'm not able to do anything else for myself that day.
That being said, my preferences are distinctly soft and feminine: Pinks, peaches, subtle lace, and flowing negligees are what fill my lingerie drawers. So what would actually change in a week of wearing styles that were relatively polarized to the pieces that I'd usually pick for myself? A few months ago, I found myself in a life slump: Tired from working too much, exhausted from dealing with anxiety, stuck with a bunch of lingerie I bought when I was straight size, and just not feeling especially excited about anything I was doing sartorial-wise.
Also, for the first time in my life, I wasn't really feeling all that sexy. Not like I wasn't wanting to have sex with my partner or masturbate or anything, but I was just feeling ambivalent about myself as a sexual creature — and I wanted to not feel that way anymore! I bought a few new bras out of necessity, but felt like a serious shake-up of my lingerie action could help me lighten up a bit and give me a dose of more vibrancy. I wanted to feel like this:
So I turned to someone I knew on Twitter and trusted to help me out: Katrina McKay, CEO of Ohhh Canada and upcoming author of Talking Dirty.
"Lingerie's not just for date night. Pretty panties (if that's your thing) should be for every day. You wouldn't wear a crappy old t-shirt that you hate every day, would you?" Katrina asks me by email. "Thinking about our lingerie as being unimportant means that we are overvaluing our public life over our private lives."
And she was right, so even though my sex life is relatively private(I like to overshare on my Twitter alt, so sue me), I wanted to really do this for me and myself. So I would try wearing sexy lingerie, unlike anything I owned, under my clothes for a whole (work) week. Like, really vampy lingerie that was the complete foil to my generally understated, soft, feminine pieces.
"I'm a big believer in the concept of 'priming' — the idea that you're sending messages to your subconscious all the time," Kat explains. "When the first thing you're putting against your skin when you're getting dressed is a pair of panties you'd be embarrassed of if anyone peered into your lingerie drawer, what message are you sending yourself?" So she picked out and sent me a box of plus size lingerie from the Canadian adult shop and I got to work.
Day 1: Working From Home
So, since I write for Bustle remotely, my Sunday-Tuesday wardrobe consists mainly of various pajama-esque non-pajama items. Generally I'm wearing a cotton dress with an elastic waist and a cotton cardigan-ish bathrobe. Nothing that I'd try to pass off as an outfit at the office, but would look fine if I had to make an emergency coffee run. Or if I had to answer the door for my mailwoman.
I switched it out for this black lace chemise. Still comfortable but instantly, I perked up a bit. The silky fabric felt great against my skin and looking down and seeing lace gave me a little thrill. The experiment was off to a good start.
Day 2: Working From Home (Again)
I woke up feeling crappy after too little sleep and really just wanted to work from bed in my sweatpants. Instead, I threw on this sheer booty short and halter top set and made myself an espresso before settling back into bed to write.
While this didn't make up for my lack of sleep or totally turn my day around, it was nice to check out my boobs every time I walked by a shiny surface. Since they were mesh, I also had to deal with seeing my lower tummy all day. While at first, my initial reaction to it was, "Blech, I don't wanna see," it definitely became a more chill occurrence as the day went on — which is irrevocably an unexpected plus.I kept the panties on under a dress I wore to work at my retail job that night and was definitely aware they were there in the best way. Did this encourage a little self love in the bath once I got home? I'll say yes.
Day 3: Working At The Office
I decided to wear a va-va-voom level sexy hot pink and black velvet bra with some garter pantyhose for a little extra oomph. I was spotting a bit that day, so I chose to wear some high-tech, leak-proof undies instead of a fancy pair of lacies, but the bra and garter definitely did the trick to have me feeling saucy.
I sit at a desk for most of the day, so wearing this outfit underneath pants and feeling every rub of the nylons against my pants gave me a little tingle and reminded me what I was wearing. Being made aware of my body and its presence countlessly throughout the day was a really lovely and unexpected side effect of this outfit.
I did have to do a fair amount of adjusting when I sat down or stood up and disrobing at the gym was a little bit funny, but I went home nylon-less and it made me feel hyper-aware of the sensation of the jeans against my legs. Bodily awareness, FTW.
Day 4: Working A 13-Hour Day
The pictures of me in this getup were a little too NSFW, but I decided to don this red and cream rose print bustier for a hella long day at two of my jobs. I didn't really think about the fact that my boobs would be spilling out of the cage bra-style top, so that was my bad. Having to scoop up my unruly boobs every now and then really just ended up being an excuse to touch my boobs a bunch all day — not bad!
The real moment of like, "Oh, I was right that doing this would help," was at the end of the day. It was dark, I was exhausted, and disheveled. I was stripping down for a shower when I caught a glimpse of myself in the mirror adjacent to my bathroom. My hair was a mess, my makeup had mostly melted off, I had serious armpit stubble, and I realized how gorgeous I looked. I didn't need the lingerie to look at myself more gently and see the beauty that was there, but after almost a week of being more aware and more comfortable with my body, it did come easier. It also reminded me that I can be pretty and sexy at any time: Not just when my hair is done right, not just when I am looking my freshest, not in order for anyone else to see it, or not just when I am trying to.
Getting myself in the mindset of feeling beautiful and of doing something indulgent for myself every morning had no doubt contributed to that moment of appreciation. Well, damn. I guess this was working.
Day 5: Working At The Office, Drinks After Work
For my final day of the challenge, I wore my favorite outfit of the week: This hot pink bustier. It was something I would have never chosen for myself and it made me feel really confident and a little sassy. I loved the brightness and wearing something so bold underneath my clothes made me feel like I had the best little secret in the world. I kept sneaking to the bathroom to peek at myself in this shade, and I definitely felt myself walking taller and smiling a little bit bigger.
I accepted an invitation for drinks after work when I'd usually just pass and say we should just head home to let the sweatpants and Netflix begin. I was definitely feeling my look that day and wanted to spend a little more time out and about, even though it had been a long-ass week. When I did arrive home, I chose to change into my silky black chemise instead and felt like a glamorous heiress laying around and eating chocolate instead of a puddle of fleecy cotton. Score.
So, What?
Adding new pieces to your wardrobe or new lipstick to your makeup bag mean that you literally make an investment in your appearance: And it doesn't have to be for anyone else. Taking time each day to pick out the outfit, do up the buckles and clasps, and admire the way I looked made me spend more time with myself, thinking about my appearance in a positive way.
If you follow me on Twitter, this was the week that I posted approximately 7309278 selfies. I don't necessarily think that the average babe has to go out and replace all of her underthings to feel these things or to bring about mindfulness, but it was definitely a fun way to go about it.
Seeing yourself in a different way, regardless of what that may be, is always a good way to jar ourselves out of the familiarity that we have with our self-image. Who or what do we see more than ourselves? Taking a common sight and making myself reconsider it and notice new things could take place in a manner of ways. Seeing my body in new colors, styles, and garments that made it look differently forced me to change my self-image. Wearing the lingerie itself didn't do it, but using the experience as a lens to view myself through did. It broadened my perspective of what my body is and how I relate to it. And it just made me feel super cute.
Images: Jodie Layne (5); Giphy (1); jodielayne/Instagram (1)