What We Learned From The Brian Williams Interview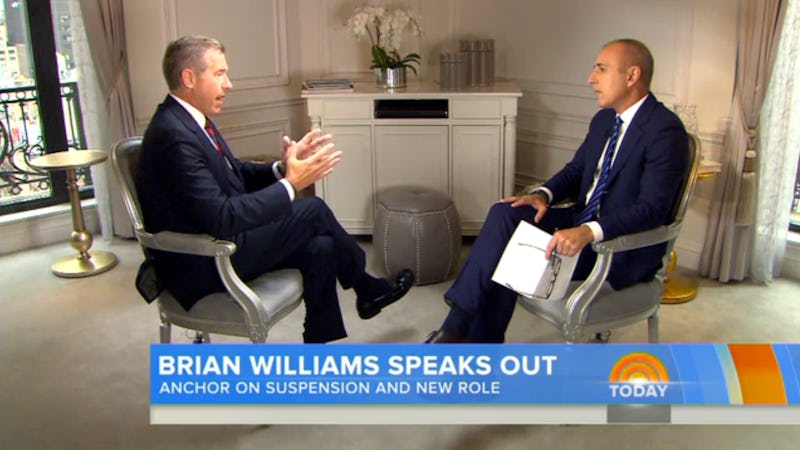 In February, 22-year NBC veteran Brian Williams was suspended as anchor of NBC Nightly News after it was allegations surfaced that he had fabricated several stories of his experiences in the field. Over the next few months, the public saw a once-trusted media mainstay descend into scandal that would forever tarnish his reputation. On Friday, NBC's Today show host Matt Lauer sat down with Brian Williams for his first interview since stepping down. During the candid interview, Williams revealed what prompted him to tell false stories and what he's learned from the experience — and, although he owns up to getting the facts wrong, he insists that they were not direct lies intended to mislead the public.
For years, Williams repeatedly told the story that would blow the lid off of Williams' reporting credibility. It told of a harrowing near-death experience he had in 2003 during the Iraq War. According to Williams' account, he and his news team were riding in a military chopper near Baghdad when it was hit and downed by RPG fire. After retelling it at a veteran event in January, eyewitnesses of the account exposed discrepancies in his story to the military publication Stars and Stripes, prompting the anchor to admit that he made a mistake and apologize.
A few days later, on February 7, Williams stepped down as anchor of NBC Nightly News, a move he thought would be temporary then, but it's clear now in the aftermath that his mistake warranted more serious consequences. Now, Williams has spoken out on that aftermath for the first time since he left his NBC post. Here are the five biggest revelations from Williams' interview with Lauer.
The Past Five Months Have Been "Torture"
The months since his scandal first broke have been trying for Williams, he said, but necessary as he engaged in some tough soul searching. He has pored over what he calls the "black box recordings from my career," which amount to about "20 years of public utterances." In reviewing everything he's ever said and done in his career, Williams said, he tried to learn what exactly had led him to fabricate stories.
He Was "Sloppier" Outside Of Work
Williams explained that during work, he was always careful with his words, which he called the "coin of our realm" and the "key to our credibility and our integrity." However, as soon as he clocked out, he became "sloppier," he said, and no longer treated his words with the same care that he does on the job. For example? He went on the Late Show With David Letterman in 2013 and told his Iraq War helicopter story.
His Ego Drove Him To Fabricate Stories
After Lauer asked whether he ever considered what these lies would mean for his title as anchor and managing editor, Williams admitted that his ego clouded his judgment. He felt the need to be sharper, wittier, and funnier in interviews, and he wanted to appear as if he had been part of the action in his stories.
Later on in the interview, Williams explained that his decision to tell false stories came from a "bad urge inside of me." He had a desire to enhance his role in the stories he told.
He Maintains He Never Intended To Tell False Stories Or Mislead People
When Lauer pressed him to reveal whether or not he told the Iraq War story, particularly when he recounted it on NBC Nightly News in January, knowing it to be false, Williams answered "no." He reiterated that he genuinely never intended to tell lies, but merely used a sloppy choice of words.
It got mixed up. It got turned around in my mind.
Later, Williams added:
It wasn't from a place where I was trying to use my job and title to mislead.
There Are Other Stories He Told Incorrectly
Williams admitted to Lauer that there were multiple stories he got wrong, but he stayed vague as to what they were. When Lauer asked whether he would like to take this opportunity to clear the record on those stories, Williams merely answered:
I would like to take this opportunity to say that what has happened in the past has been identified and torn apart by me and has been fixed ... and going forward there are going to be different rules of the road.
Watch the entire interview below.
Images: NBC, Getty Images (4)