Meet The 'Ballers' Cast Before They Become Your Favorite Bros This Summer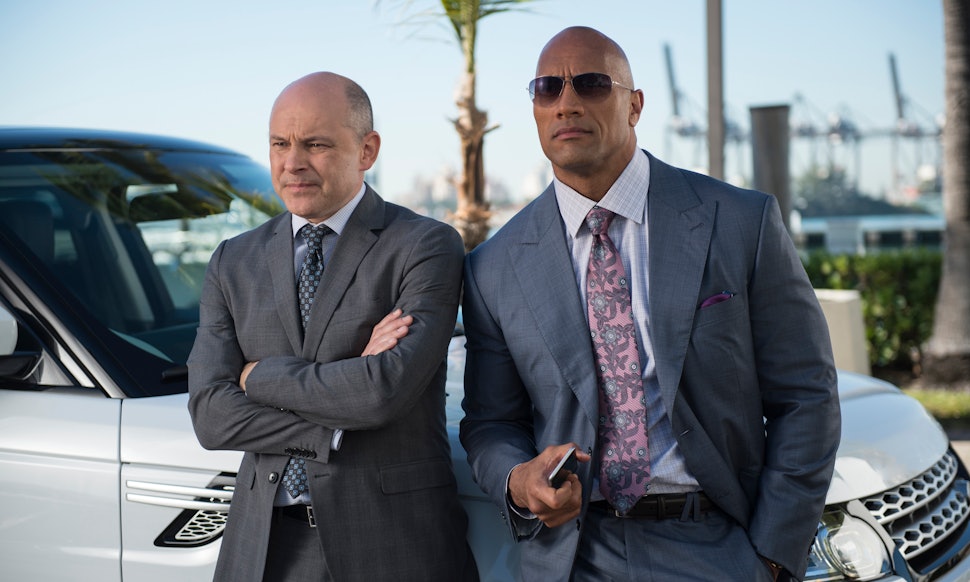 The summer of 2015 is filled with bros, and no, Vince and his Entourage are not the ones I'm talking about. HBO's Ballers premieres on June 21 and the series includes 10 episodes of football players and the men who manage their money, led brilliantly by The Rock. The show centers around football player turned financial planner Spencer, played by Dwayne Johnson, but he's not the only impressive person in the Ballers cast.
The cast includes spectacular supporting roles (Rob Corddry) and lots of storylines that are sure to pleasantly surprise viewers. This isn't just a show about rich athletes tossing cash and acting like jerks to anyone who gets in their way. Sure, there will indeed be some of that general bravado, but the brilliance of this show is in the struggles these men face everyday off the field and in their personal lives.
Don't believe me? Let the cast convince you that Ballers is worth checking out this Sunday night.
Image: Jeff Daly/courtesy of HBO
Dwayne Johnson as Spencer Strassmore
You know The Rock. We all know The Rock. From his days as pro wrestler to his transition into comedy and action star, the man with the raised eyebrow has just about done it all. Seeing him in a more dramatic role as a man with massive internal demons will be the next step in his domination of Hollywood. Also, remember that time he played the Tooth Fairy?
Image: Gene Page/courtesy of HBO
Rob Corddry as Joe
Rob Corddry joins Ballers as Joe, who is a financial advisor (and Spencer's boss) who wants desperately to fit in with these pros. He's also terrible at picking up social cues, which is certainly a trait Corddry has used before in previous roles. You might know him from Children's Hospital, Hot Tub Time Machine, Robot Chicken, and In a World.
Image: Jeff Daly/courtesy of HBO
Donovan Carter as Vernon
Vernon is a rookie who isn't a great judge of character. His friends are not stellar influences, and will get him into deep financial trouble. Vernon is played by Donovan Carter, whom you might not know at all, because Ballers is his first big role, though he did play football for UCLA.
Image: Jeff Daly/courtesy of HBO
Troy Garity as Jason
Jason is a killer sports agent and will probably have to play nice with Spencer to keep their mutual clients in check. Jason is played by Troy Garity, who has had roles in The Playboy Club, Hawaii Five-0, Boss, Elementary, and Alex of Venice.
Image: Gene Page/courtesy of HBO
John David Washington as Ricky
Ricky is a wide receiver with a lot of talent and also a lot of rage. Ricky is played by John David Washington, who had a role in Malcolm X and was a co-producer on The Book of Eli.
Image: Jeff Daly/courtesy of HBO
Arielle Kebbel as Tracy
Tracy is a local sportscaster in Miami and is extremely focused on her career. Gilmore Girls fans know Kebbel as Lindsey (Dean's wife). She has also appeared in Grounded for Life, Hawaii Five-0, 90210, The Vampire Diaries, and UnREAL.
Image: Jeff Daly/courtesy of HBO
Omar Benson Miller as Charles & Jazmyn Simon as Julie
Julie is married to Charles, a retired lineman who is having trouble transitioning into his new life off the field. Miller who had roles in CSI: Miami, House of Lies, and 8 Mile, while you might know Simon from Baggage Claim, Hello Ladies, and Backseat Driving.
Image: Courtesy of HBO