6 Reasons Networking Is Exactly Like Dating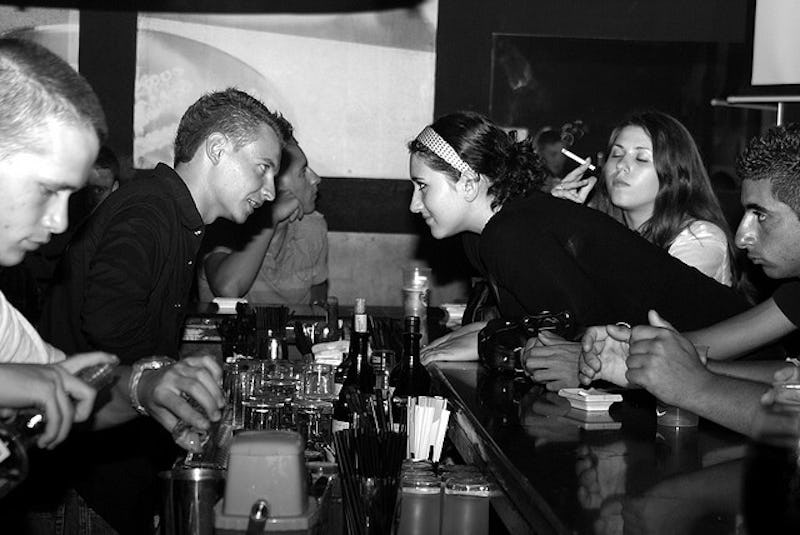 Despite the vast landscape of digital media connecting us to literally everyone and their mom, meeting people is still hard — whether your intentions or personal or professional. Thanks to the winning combination of hookup technology and a less-than-ideal economic climate, however, more and more people are using dating apps for networking while looking for their future boos.
A recent article in Entrepreneur cites the business matches made in heaven that services like Tinder and Hinge have inspired. While dating may be the initial impetus for these connections, the results often turn out to be unexpected work matches instead of hot booty calls. Whether it's mentorship, funding, or just a likeminded person in a complementary field, these kind of hookups are inspiring new apps based upon the Tinder model but with work life and not love life as their focus.
Some might find it a little unsavory to mix business with pleasure, but as anyone who's worked in a close-knit organization knows, your relationship with your co-workers and boss is already a lot like dating anyways. There's the initial wooing period, the honeymoon phase, and, of course, the get-so-comfortable-you-stop-trying phase — not to mention the breakup phase, which can sometimes prove far more disastrous in a professional setting than it can in a personal one. TL;DR: Networking can be a lot like dating, and here are 6 reasons why:
1. You'll Blow It If You're Overly Eager
Resist the urge to be starry eyed or risk signaling that your prospect holds all the cards. Even if they do have the upper hand, it's preferable to be engaged yet slightly aloof. Everyone likes a little challenge, whether it's leading to the bedroom or the boardroom.
2. You Can Learn More By Listening Than Talking
Networking, like dating, should be a give and take, not a one-sided conversation. Active listening will probably take you a lot farther than outlining your five-year-plan for what seems like five years.
3. Drinking Too Much Can Crush Your Chances For Connection
A little liquid courage can inspire a level of real talk that might not happen otherwise, but stop before you do anything you'll regret — or forget.
4. Highlighting Your Positive Attributes Is A Must
You know you're hot sh*t, so don't be too modest. A good match is made when each party can successfully reveal what their strengths are to the other. Being desirable in your work and love life sometimes requires a few humble (or straight up) brags.
5. Fearing Failure Won't Get You Anywhere
Whether you go on a hundred bad dates or a hundred fruitless networking meet ups, keeping the faith is the only thing that will get you through. That whole "plenty of fish" saying applies to jobs and employers too (or at least I tell myself that all the time).
6. You Have To Kiss A Lot Of Frogs To Meet Your Prince/Princess
Like dating, networking is numbers game, and for every match that fizzles there's a work prospect that doesn't quite sync up. The more work frogs you metaphorically kiss, the more business princes you're likely to meet. Which is basically a fairy-tale-infused way of saying, it takes as much time and energy to network as it does to date, but if you put in the dedication, you're likely to find what you're looking for (or, at least, something you weren't exactly looking for but actually kinda works out after all).
Images: Moti Krispil/Flickr; Giphy (6)