James Corden Took Iggy Azalea Bridal Gown Shopping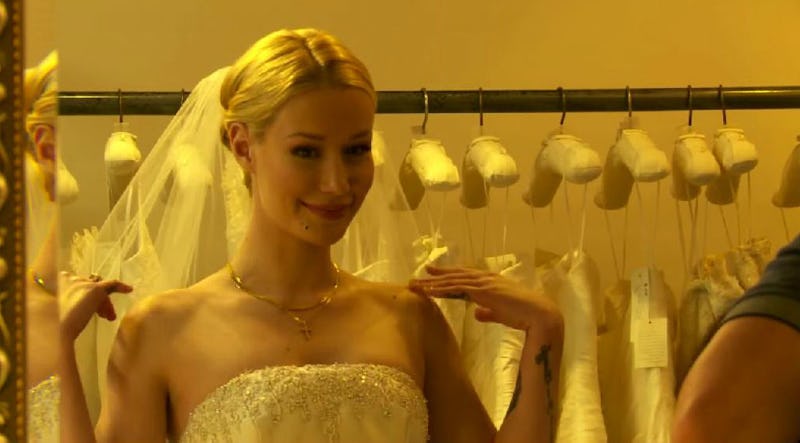 The latest edition of The Late Late Show's James Corden Carpool Karaoke features female rap star Iggy Azalea trying on wedding dresses. Surprisingly enough, Corden does quite the job keeping up with Azalea as the two jam out to her chart toppers "Fancy," "Black Widow," and "Trouble." Hilariously entertaining as their karaoke may be, the most interesting parts of the car ride were when the music turned down and talk of Azalea and Nick Young's upcoming nuptials turned up.
Here's what we've learned: Aside from the fact that her rock is huge (you really can't miss it with her hands waving everywhere), she's definitely marrying her "type." As of now, the performer has met with a wedding planner and decided on four bridesmaids, including gal pal Demi Lovato. When asked if she had chosen someone to officiate her wedding, Azalea admits that as of now she has not, but promises Corden that if he were to become ordained, the job would be his.
With Lovato and Corden topping the guest list, this wedding is looking to be quite the bash. And of course, what would a wedding be without the perfect outfit? Corden decides to make a pit stop at a bridal boutique for Azalea to try on her first gown.
When it comes to saying yes to the dress, Azalea is looking for a long train and skirt, but when it comes to the question of whether or not she'll be opting to "push 'em up or let 'em rest?" Azalea is says "let 'em rest."
Let's take a look at the lucky dress, shall we?
Priceless.
Images: Youtube(5)