Miley & Her Maybe GF Really Love Fun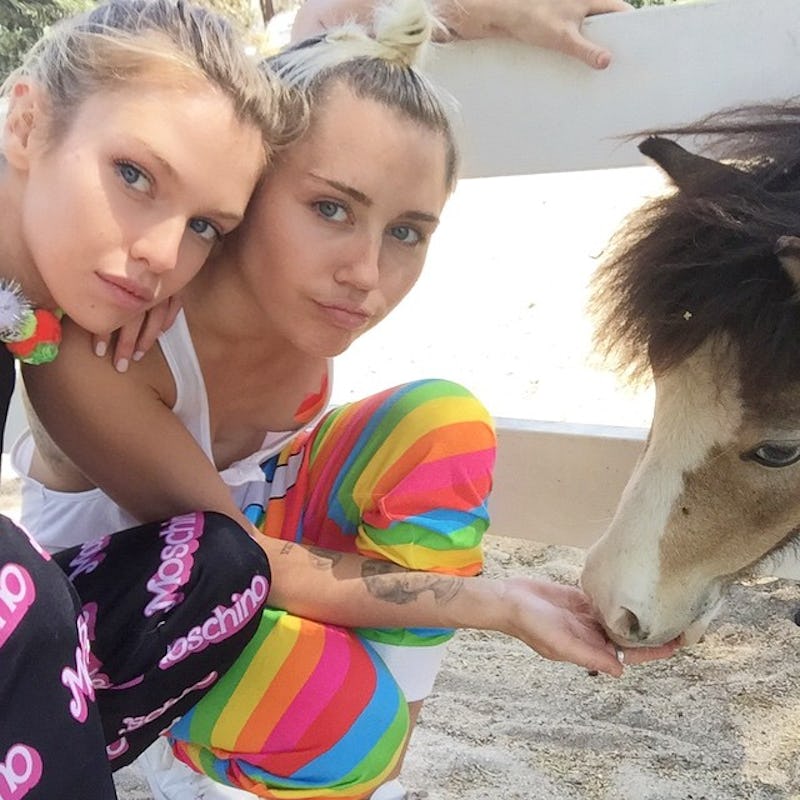 Another day, another potential celebrity couple. This time, it's Miley Cyrus' turn on the dating speculation block. According to the New York Daily News, "sources" have claimed that Miley Cyrus is dating model Stella Maxwell. These sources apparently told the publication that, "They hold hands and hug and are very comfortable together. They're definitely together." And, someone who the publication refers to as a "spy" asserts that they are so at ease with one another, they appear as a longtime couple. You know, for a spy, I'd figure they'd have dug up a bit more tangible, concrete facts to provide us with. But, hey, that's what rumors are all about, right? Leaving us wondering what's really going on.
Listen, I don't know if Cyrus and Maxwell are dating or not. If they are, that's wonderful. If they aren't, that is also really great. All I know is that until either lady confirms it, the Instagram snapshots that various publications are using as proof of their relationship only prove to me one thing: that they have a whole lot of fun together.
Here are nine Insta pics from both Cyrus and Maxwell, that show that these friends and maybe-couple aren't here for rumors, they're just here to enjoy one another's company.
1. Hanging Out In Vegas
NBD, guys. NBD.
2. But, Also Hanging Out In PJs, Playing With Ponies
Uh, best sick day ever?!
3. Jamming Out Together
I mean, if you're friend and possible significant other is a singer, getting to go to their performances is a definite perk.
4. Playing House
Cutting and cropping at its finest.
5. Let's Not Forget, Selfie-ing
Important.
6. Whatever This Means
Anybody? Bueller?
7. Lovin' Up On Some Pups
Dog people are good people.
8. Becoming Memes Together
The hashtag says it all.
9. Snuggling With Cats While Showered In Glitter
I'm sure it was a blast in the moment, but that's going to be a pain to get out of her fur.
Keep on, keeping on, ladies.
Image: mileycyrus/Instagram