What Photos Of Dylann Roof Were On The Manifesto Website? Many Contained Confederate & Neo-Nazi Imagery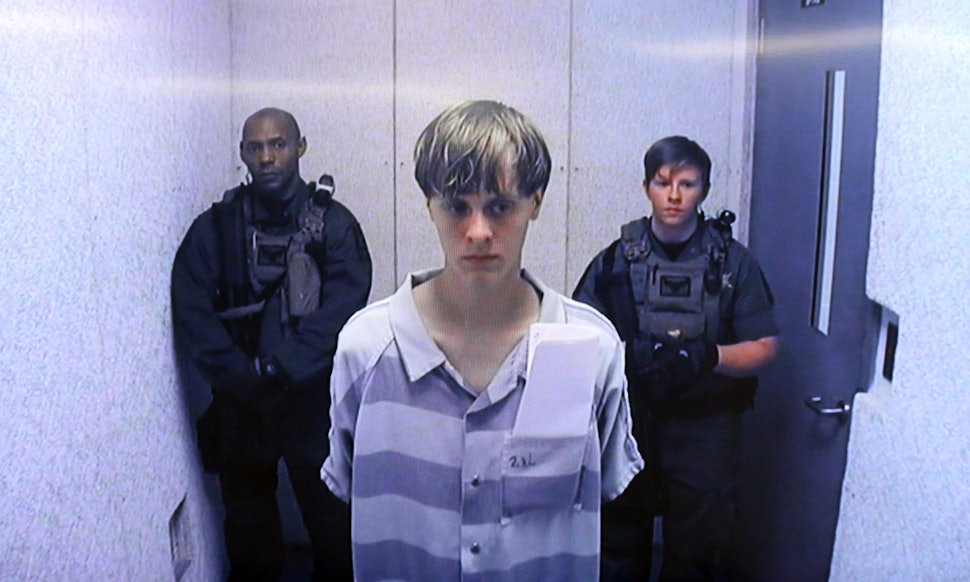 Pool/Getty Images News/Getty Images
A chilling manifesto and a set of equally alarming photographs were discovered on a website allegedly registered to alleged Charleston mass shooter Dylann Roof on Saturday. Several Twitter users claimed that the 21-year-old, charged with nine counts of murder for his alleged involvement in the recent attack on the historically black Emanuel African Methodist Episcopal Church, had registered the website LastRhodesian.com under his own name sometime this year. In many of the photos posted to Roof's manifesto site, he is seen holding the Confederate flag and pointing a gun at the camera while wearing the same apartheid-era and white supremacist patches seen in the Facebook photo that was circulated after his arrest on Wednesday.
The front page of the website itself contains a graphic image of a bloodied man lying on his back. The image was taken from the 1992 Australian film Romper Stomper , a controversial film starring Russell Crowe (whose character is pictured on Roof's website) that tells the story of a neo-Nazi group in Melbourne.
Before now, photos of Roof have been scarce. A link underneath the photo allows the visitor to download a .zip file of Roof's staged photos, several of which include guns and aggressive imagery.
In one particular photo, Roof is seen burning an American flag. A few also show him proudly holding the Confederate flag, which was used during the Civil War by southern leadership and continues to be flown next to the American flag in South Carolina.
Recently, a Supreme Court ruling declared that it was not illegal for the state of Texas to refuse to print the flag on license plates, inciting debate over the perceived racist imagery (Cornell William Brooks, national president of the NAACP, called the flag an "emblem of hate" and a "symbol of years gone by"). That dialogue was reignited after a photo of Roof proudly posing in front of one such license plate emerged hours after Wednesday's shooting. Hundreds of Twitter users tweeted with the hashtag #TakeDownThatFlag.
In another one of the photos, Roof is seen pointing a handgun directly at the camera lens while standing bare chested in front of a mirror printed with the Seagram's logo. Several others show Roof visiting the graves of Confederate soldiers. According to The New York Times, many of the photos were taken at a slave plantation in Sullivan Island, South Carolina, and at the Museum and Library of Confederate History in Greenville.
Another photo pulled from the site showed the 21-year-old wearing a shirt emblazoned with a large, colorful "88", a symbol often used by white supremacists. According to Slate, the numbers stand for the phrase "Heil Hitler" (as "H" is the eighth letter in the alphabet) and have been used in racist revolutionary doctrine for years.
Authorities have not yet publicly or officially confirmed whether the website, which also contained a racist manifesto, belonged to Roof.