How To Legally Get Ordained To Perform A Wedding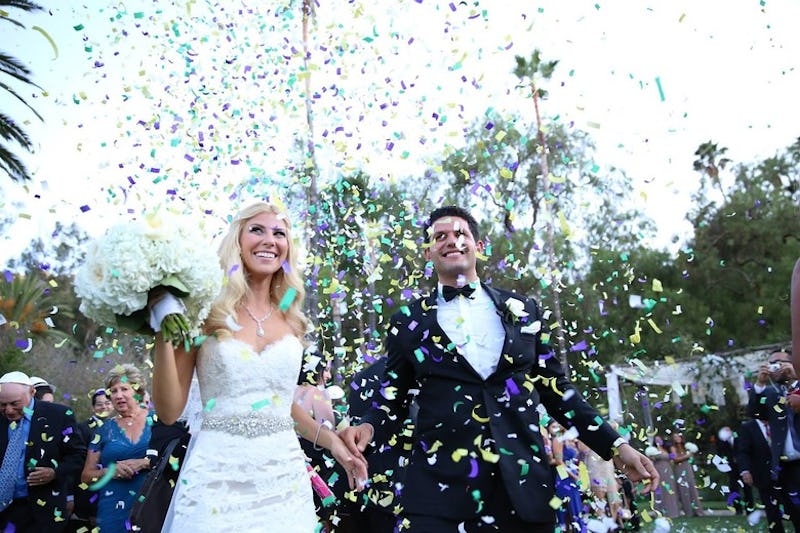 OK, first thing's first: there are a lot of different terms that fly around when it comes to who can officiate weddings, and how to get ordained yourself. Let's get the basics out of the way about who can do the marriage deed. A clergy person (minister, priest, rabbi, etc.) is someone who is ordained by a religious organization to marry two people. A judge, notary public, justice of the peace, and certain other public servants often solemnize marriages as part of their job responsibilities. A temporary officiant is someone who is given the legal thumbs up for a day by a state to marry two people.
If you're looking into how to marry a friend or relative, you're probably most interested in either 1) becoming ordained, or 2) being a temporary officiant. As in all things of legal importance when it comes to marriage (like getting your marriage license), the regulations for performing a legal marriage ceremony vary from state to state. I won't attempt to summarize the ins and outs of all the variations of the 50 states here, as the differences are mind-boggling crazy (more on this to come), but here are the basics to get you started, and confidently headed in the right direction.
Know the state requirements
As always when it comes to marriage, check out the requirements in the state and county where you are going to be performing the marriage ceremony. In some states, the laws are much clearer and stricter, while in other states things can be a little loosey goosey. Either way, you want to know what the requirements are wherever you're performing the ceremony.
Get the necessary documents in place
If you need to become a temporary officiant or get a one-day marriage designation in order to perform the ceremony, then that's the most important thing to do. Any marriage ceremonies performed without the appropriate paperwork in a state that requires that it approves temporary officiants may be considered... well... null and void. So make sure to do your due diligence to see if it is necessary to be approved by the state to marry two people and, if so, what that process is.
Or get ordained (if that's cool with your state)
In some states, you don't need legal documents to marry people — you can be ordained by a religious organization instead. Though this sounds rather complicated, it can actually be the least complicated of all the ways to go about marrying a friend or relative in some states. Organizations like the Universal Life Church Monastery and the American Marriage Ministries will ordain people who want to perform a marriage ceremony with a few clicks of the mouse. With that said, some states require that an ordained minister actually have a ministry or congregation to legally marry people — so again, know what your state does and doesn't require.
If the people you are marrying are interested in having a spiritual or religious component to their ceremony but live in a state where you need to have a state-approved, one-day marriage designation, then you could likely do both — become a temporary officiant and an ordained minster. Though it sounds rather complicated to tackle both, the states I have worked in make it pretty simple to get a one-day marriage designation, and the Universal Life Church Monastery and American Marriage Ministries make it insanely simple to become ordained as a minister.
To recap, check in with the state you are performing the ceremony in to see if you need to be approved as a temporary officiant (or something similar), and/or if you should take the route of becoming ordained as a minister. And to re-emphasize just how important it is to know your state regulations, just consider this: according to this list of recognized marriage officiants by state, commissioners of the Salvation Army are approved to perform marriage ceremonies in Alaska (seems a bit random, eh?), while in Wisconsin you and your future spouse can officiate your own ceremony (and I'm still not totally clear on how that one works).
So make your next online research stop the state's official website of where you are going to marry the couple, and then move on to the fun stuff like what to talk about during the marriage ceremony... and what not to talk about during the marriage ceremony. Most importantly, keep calm and marry on!
Images: barrydadon/Pixabay; Somerby Jones Photography; Giphy