The Best IG Snaps From CurvyCon NYC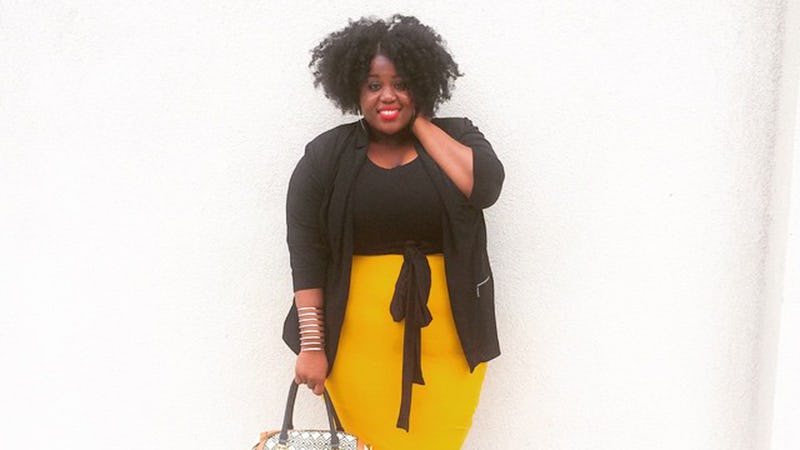 It was a big week for plus size fashion. I'd be lying if I said that I wasn't jealous of all the New Yorkers who got to see an exceptional amount of well-dressed plus size babes running around town for Full Figured Fashion Week and the very first ever CurvyCon NYC. Started by two fashion bloggers, Cece Olisa and Chastity Garner, CurvyCon was the answer to last year's announcement that Full Figured Fashion Week would stop running events after 2014's edition.
The pair of bloggers realized the importance of having an event where plus size bloggers, celebs, brands, and readers could meet, Olisa wrote on her blog Plus Size Princess. I mean, how could they not — that sounds like the most fun, right? So the duo decided that they had to plan something to replace FFFW that was by and for the people who knew the industry — aka them. Even though the organizers of FFFW announced they were coming back for 2015, the duo still decided to go ahead with their plan. Fast forward to major blogger Gabi Gregg of Gabifresh and actress and singer Amber Riley signing on and they realized they had something huge on their hands.
The event brought out the plus size and curvy style elite in droves and I'm drooling/having the most major FOMO over all of the pics popping up in my Instagram feed. If you couldn't be at The CurvyCon this year, start making plans now and drool over these 13 times I wished I was at The CurvyCon:
1. When Cece And Chastity Made An Amber Sandwich
2. When Nadia Aboulhosn Wore This AMAZE Jacket
3. When Gabi Gregg Wore Sequin Leopard Print (!!!)
4. When Kierra Sheard Launched Her Clothing Line With Eleven60
5. When Sabrina S. Proved Adding Tassels Makes Everything Better
6. When Victoria Lee Made Blush And White Look So Elegantly Refined
7. When Amanda Allison Took Grid Pattern To The Next Level
8. When Ty Alexander Knocked This Printed Wrap Dress Out Of The Park
9. When Brielle Janae Was The Definition Of #OutfitGoals
10. When Ashley Graham Stopped By
11. When ON The Q TRAIN Had The Perfect Accessories
12. When Sarah Conley Mixed Prints Perfectly
13. When This Mini Dress Was My Favorite Thing
Ughhh. I'm booking my plane ticket for next year's ASAP.