I Got An Asymmetrical Cut, And You Should Too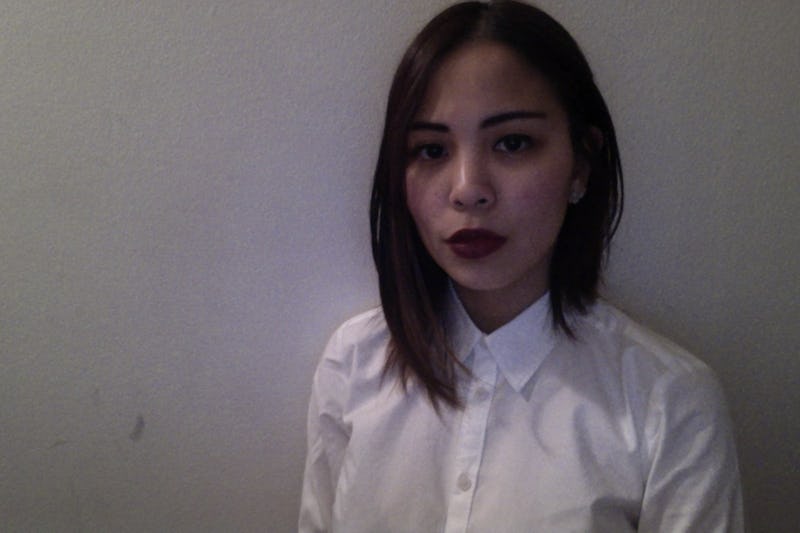 In the inevitable search for finding a new summer haircut, I was scrolling through blogger Feral Creature's Instagram feed, when I was hit with sudden inspiration: I was to get an asymmetrical bob. I didn't have the amazing granny grey hair that she was rocking, but I totally dug the uneven look that was just subtle enough to have you wondering what she had done differently with her hair.
Ever since I chopped nine inches of my hair off a few years ago, I've gone back and forth between a short bob and a longer cut, unable to decide which I liked best. And even the reviews were always split, 50/50. The solution? A haircut that allowed for both: Shorter on one side, and longer on the other. Alas began my search for the perfect asymmetrical cut that I could show my hair dresser. Finally, I settled on a mixture of Ashley Olsen's cut and Eugenie Grey's (Feral Creature) bob.
I showed my hairdresser, and she seemed a bit in shock (granted, it was an old school place), but started cutting nonetheless. By the end, I had her convinced: This was a cool summer cut. And while there are some difficulties with having an uneven haircut (hi, trying to tie a ponytail for the gym), it's definitely a haircut that I envision myself keeping for a while.
The asymmetrical cut is perfect for those like me that are looking for a little more of a change than just a regular cut, but a little less than say, dyeing your mane platinum blonde, or going full on pixie. And if you happen to hate it? Well, have the hairdresser even it all out. You may leave with a few extra inches off, but hey, sometimes you gotta take risks.
If you're searching for a new, fresh cut for summer, look no further. Here are ten reasons why you should rock the asymmetrical cut.
1. They go perfect with a floral, summer dress, à la Jenna Dewan-Tatum.
2. Mixed with the granny hair trend, you've got the edgiest cut for summer.
3. They look great with a cat eye.
4. They're a new twist to just the regular bob.
5. They look great with tight curls.
6. And loose, beachy ones too.
7. They look super chic for dressier events.
8. It's an edgier cut that's still work appropriate, even at a corporate job.
9. A few loose curls here and there makes for a perfectly styled look.
10. It basically looks insanely chic, no matter what you do.
Images: @leobancroft/Twitter, @mirmaidkenly, @feralcreature, @nealmalekhair, @micahmiami, @tiffanylebaron, @abrehm1029, @splitendslayer, @true_image_salon, @hairbymelody/Instagram