Rent-a-Top-Chef Is the New Rent-a-Swag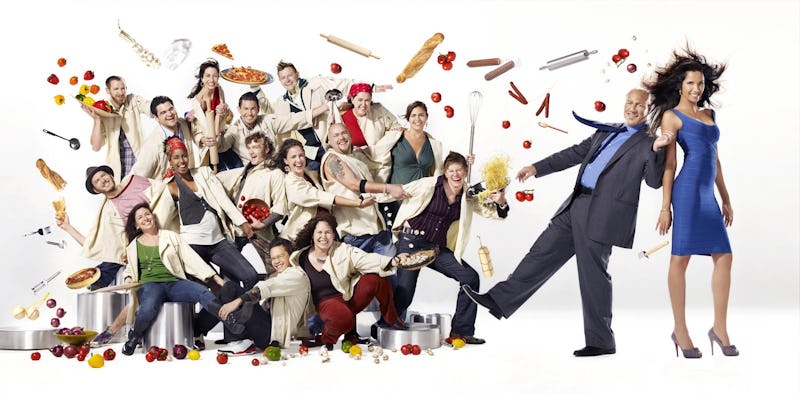 Good news, everyone: If you're one of the masses who is too tired to cook for yourself or your family on a consistent basis because cooking takes, ugh, effort, Bravo is partnering with a start-up called Kitchit to come to your rescue. According to The Hollywood Reporter, people can now "rent out" Top Chef contestants to cater events in their home — granted they live in LA, NYC, Chicago, or San Francisco, and have enough money to dish out.
"Our passionate Top Chef fans are always asking us for the chance to immerse themselves in the taste and feel of the show, and partnering with Kitchit is the perfect way to deliver on this request," Bravo said of the deal in a statement. "As we did with Top Chef: The Tour and the Top Chef Kitchen pop-up restaurant in NYC, Bravo endeavors to give our loyal viewers an opportunity to experience a Top Chef dinner firsthand from the comfort of their own home." Kitchit, for the record, is an online service that allows users to book in-home dining, catering events, and cooking lessons from reputable, pricy chefs — and now, apparently, Top Chef contestants too.
Through this deal, Kitchit will include 30 Top Chef alums in their service, including Nyesha Arrington, Richard "Richie" Farina, Chris Crary and Marcel Vigneron.
As specified in this press release on TV By the Numbers , between Nov. 19 and Dec. 10, Bravo is also launching a contest for Top Chef fans to win an "intimate" dinner party for themselves and seven of their friends in their own home, which will be catered by one of the Top Chef contestants.
Serious question, though: Will I be able to hire one of these guys to come to my apartment right now and make me lunch?
Image: Bravo