These Bottled Water Brands Have Been Recalled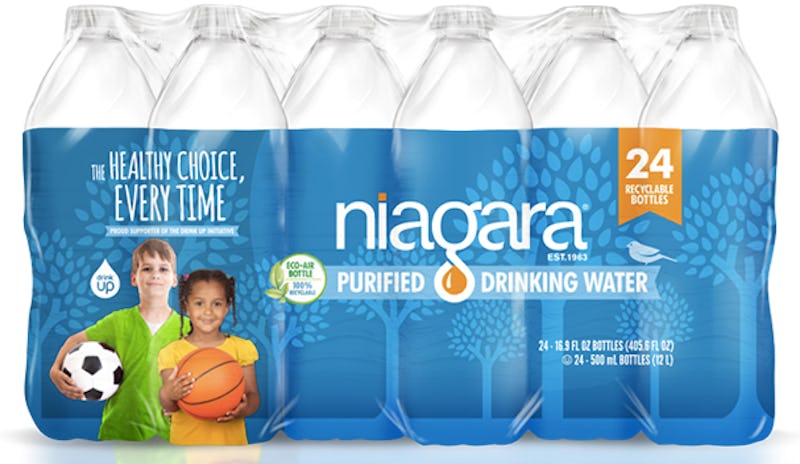 This week, popular water retailer Niagara Bottling is voluntarily recalling its bottled water, sold under several different brand names, due to a potential E. coli contamination. All spring water products manufactured at Niagara facilities in Pennsylvania are affected, the company said in a statement Monday. Fortunately, there haven't been any reports of illness from the drinking water at this time, but Niagara and the Pennsylvania departments of Health, Agriculture, and Environmental Protection (DEP) are issuing the recall as a precautionary measure.
According to a public notice, the company discovered E. coli bacteria in its water supply on June 10. Only water manufactured between June 10 and June 18 at Niagara facilities in Allentown and Hamburg, Pennsylvania, have been affected. Consumers can check the codes listed on the Niagara website to determine if their bottles were impacted by the recall.
"The only affected products have codes that begin with the letter F (for Hamburg) or A (for Allentown)," the company added. The code also includes the date and time of the manufacturer.
Niagara bottled water is sold under a number of brand names in supermarkets and convenience stores across the country. The following brand names, in addition to Niagara, were affected by the possible E. coli contamination:
Acadia
Acme
Big Y
Best Yet
7-11
Nature's Place
Pricerite
Morning Fresh
Superchill
Shaws
Shoprite
Wegman's
Western Beef Blue
Although Niagara has not received any complaints of illness or injury due to possible E. coli contamination, the company is advising consumers to remain vigilant about symptoms of infection. The company explained in a statement:
E. coli are bacteria whose presence indicates that the water may be contaminated with human or animal wastes. Microbes in these wastes can cause diarrhea, cramps, nausea, headaches, or other symptoms. They may pose a special health risk for infants, young children, some of the elderly and people with severely compromised immune systems. ... If you experience any of these symptoms and they persist, you may want to seek medical advice. People at increased risk should seek advice about drinking water from their health care providers.
Niagara is urging all consumers who purchased Niagara bottled water that was manufactured between June 10 and June 18 to boil the liquid before drinking it. "Bring all affected water to a boil, let it boil for one minute, and let it cool before using, or use bottled water. Boiling kills bacteria and other organisms in the water," the company said in a statement.
Images: Niagara Bottling (2)