7 Of Kerry Washington's Boldest Looks Ever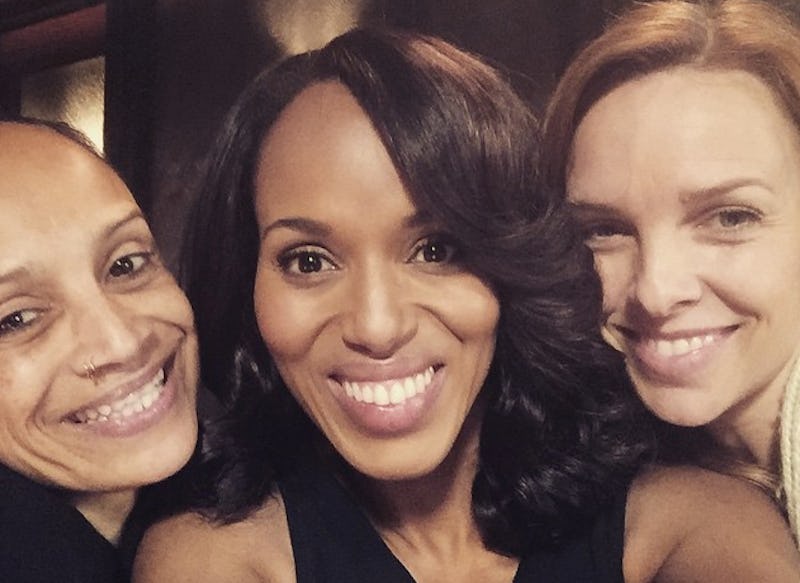 When someone says that they're a fan of Kerry Washington because of her role as the Olivia Pope on Scandal, I like to say that I've been a fan ever since the 2001 film Save the Last Dance. From her outstanding acting to her beauty, Washington has always been a shining star to me.
More to the point, though, I have always admired Washington's style. Recently, red carpet events have lacked luster in the style department, but the actress is one of the few stars that I know will always shock and awe me on the red carpet. Washington always have the fashion critics talking during red carpet events.
The 38-year-old is not afraid to take style risks, which is quite rare in the entertainment industry. She is always mixing prints and clashing colors together, which is so much fun for me and I hope it's fun for her, too. Even though her real-life style is very opposite to Olivia Pope's signature look, Washington has it "handled" either way.
Here are seven times when Washington did not shy away from taking a fashion risk. Hopefully, we all can be as brave as she is with fashion one day.
2015 Met Gala Afterparty
The beautiful embellishments on this gray Prada dress are the reason why this look is considered a fashion risk. Washington wore this number to the 2015 Met Gala afterparty and it was a showstopper. The green Prada heels and clutch added an even more fun, risky touch to this elegant look. Can I borrow that clutch, Kerry?
Oscar De La Renta Gown
Washington just loves to clash her pastel colors together and I am a total fan of that. She wore this Oscar De La Renta dress years ago to an award ceremony and it is still a stunner. The pastel blue skirt goes perfectly with the pastel pink top portion. Plus, the lace detailing on the top and alluring skirt pattern made the look even better. I think you should try this look again, girl.
2015 Met Gala
This ensemble certainly had the viewers of the Met Gala red carpet talking up a storm. The look was even more fun with the green Prada heels, which I believe she wore to the after-party, as well. Some might even consider that "repeat" a risk, ha!
2015 Golden Globes
This custom Mary Katranzou dress was a winner at the 2015 Golden Globes. The silhouette of this dress is not very popular due to its risky shape, but Washington wore it beautifully. The light and dark color contrast is perfection. Plus, can we discuss the astonishing pattern and light reflecting material used for this dress?
Mixing Prints
This entire look is fun and witty, which is a side of Washington that I love the most. Mixing prints and patterns can sometimes be hard to pull off, but Washington decided to pair a polka-dot top with a floral patterned skirt and pink pumps because she's just that cool. How did you pull of this look so effortlessly, Kerry?
SNL 40
Donning a white tuxedo jacket as a dress, Washington proves that taking a fashion risk can end up being quite sexy. The black lace bra peeking out of the jacket gives the look even more sex appeal. This is my favorite look out of the bunch.
2014 SAG Awards
During her pregnancy, Washington was known to make interesting fashion choices. This custom ensemble by Prada is one example of her exciting pregnancy style. Washington wore a floral pink crop top with a black midi skirt set to the 2014 SAG Awards. Many people, especially me, loved that she went against the norm and decided to show off her pregnant belly on the red carpet.
Images: kerrywashington/Instagram (8)