Get Ready To Be More Excited For 'Trainwreck'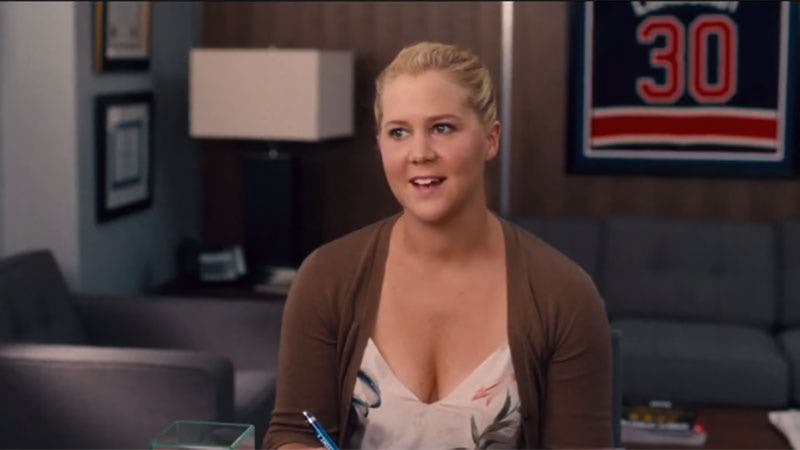 If Trainwreck wasn't already poised to be my favorite movie of the summer, the latest trailer for the upcoming film would have convinced me. It's a fact that waiting for the Amy Schumer-starring film is hard, but this new international Trainwreck trailer gives me the will to go on. (Less than a month to go, guys!)
The trailer, which clocks in at just under one minute, reiterates a lot of what we already know. Schumer's character, also named Amy, is a New York tour de force, the ultimate single woman. (As the clip reminds us, when Amy was a child, her dad instilled in her the belief that monogamy isn't realistic.) Of course, that makes things all the more complicated when she meets Bill Hader's character, Aaron, a charming sports doctor. Spoiler: There's chemistry!
The great thing about the Trainwreck trailer (besides the fact it's chipping away at the wait until the full-length movie is released), is that it confirms that Hader and Schumer are kind of the best. They're witty, original and this promises to be a fresh take on the rom-com genre. The only downside of watching this new trailer for the film? Realizing you can't run and see the movie literally right this second, because it's not going to be in theaters until July 17.
Check out the seven most GIF-worthy moments that prove this movie will be amazing:
When Amy's Dad Sets The Course Of The Entire Movie In Motion
All together now: "Monogamy isn't realistic."
When Amy Takes The City By Storm
And takes no prisoners.
When Aaron Waves And My Heart Melt
Because he's so endearing.
When Amy Is All Of Us At Brunch
Two mimosas, hold the orange juice.
When Amy Is Also All of Us At The Gym
Good reflexes, though.
When Amy And Aaron Take A Carriage Ride Through Central Park
I can't get over their reactions. I just can't.
When The Duo Already Proved That They'll Totally Be Relationship Goals
Because this chemistry is flawless. Trainwreck, please arrive soon!
Images: Universal Pictures/YouTube (8)