Will the 'Pretty Little Liars' Escape the Police?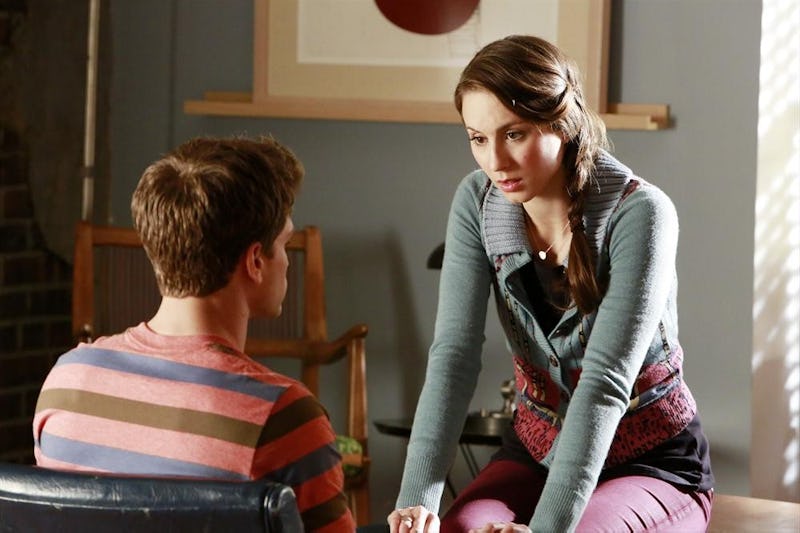 Last week on Pretty Little Liars, Hanna got a bird, Spencer was slapped with a rejection from Penn, Aria started a second inappropriate relationship with a teacher, and Emily was (once again!) hospitalized. As per usual, the Liars came close to solving the mystery about who Ali was with in the weeks before her death... only to have the answer snatched out of their hands last minute by 'A'. (This time, 'A' released the talking bird who held the secret to whom Ali was calling all summer.)
This week, the summer series heats up by attempting to get to the bottom of the woman who (we think) was in an Ali mask... aka, Red Coat. And also, maybe, the Lady in Black. If they're the same person. Which they may or may not be. (Pretty Little Liars gets pretty complicated). So, where do you go to search for clues as to who was in a creepy mask? A creepy mask shop, naturally. (Clearly, no one remembers how the whole "doll shop" thing went down in Season 2.)
Where else are the Liars off to this week? From the looks of it, it seems that Spencer is stumbling back into Radley — as a guest, not a resident — to help Toby look for more answers regarding his mother's (possible) suicide. On a different note: Someone should tell Toby that while we're skeptical about him wearing shirts in general, the striped number he is wearing in this preview should be burned.
But the most serious issue that the Liars are facing — and they are facing quite a few — is that it seems that the police are once again on their tail. This time, it looks like the girls are major suspects in Wilden's murder. Anytime someone begins to make a web diagram with your picture as one of the spokes, it's definitely not good. No matter how pretty the pictures are.
Image: ABC Family