Grow Your Own Herb Garden Without A Yard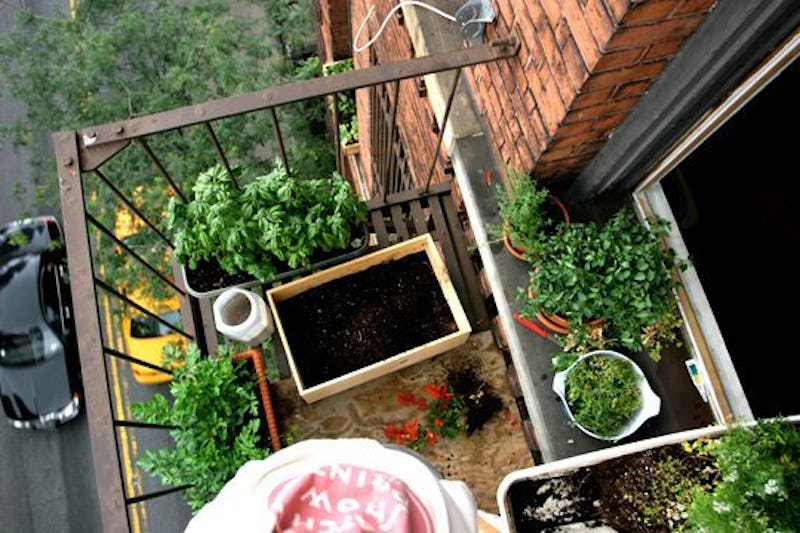 There's a lot to be said about growing a container garden at home. In Frances Hodgson Burnett's The Secret Garden, Mary attempts to cure the frustration of her new, grey life on the moors by asking, ever so gently, "Might I have a bit of Earth?" Having a garden in your home is in no way a luxury reserved for those lucky enough to have their own yard, or an estate filled with a maze of hidden outdoor space, in Mary's case.
Call it common sense or laziness, but my favorite things to grow at home are things I frequently leave the house to purchase. That means tons of herbs and hot peppers. Growing herbs in your apartment is doubly wonderful, because the quality and flavor that you'll get from freshly cut herbs is unmatched, even compared to what you'd find at a farmers' market.
A hot pepper plant purchased this week at your local nursery could be fruiting and bringing its spice to your kitchen as early as September. Growing live plants in your home contributes positively to your mood and attention span, and growing plants that you can eat saves you money at the grocery store.
So, how can you have your own bountiful and nearly effortless garden in your small space?
1. Use Recycled Materials As Containers
You already have totally useable (and cute) DIY plant containers in your pantry. Just poke a few holes in the bottom of an empty tin can and fill halfway with soil, then add your young plant and cover the roots with more soil. Other great planters that you already have include mason jars, coffee mugs, and mismatched tea cups.
If you have a large sunny wall available to house your indoor garden, check out this genius pallet frame herb garden from The Kitchn.
2. Start Regrowing Plants From Cuttings & Scraps
Did you know that you can regrow loads of vegetables from kitchen scraps that you've been throwing away? Put green onions roots-down in a glass of water, place on a window sill, and watch the magic happen. Make sure to freshen the water every three days or so.
Check out this post from Black Thumb Gardener about more plants that regrow from their scraps.
3. Work With Invasive Plants
Plants like rosemary and mint grow well in containers if for no other reason than they are literally contained. Those two, like many other invasive species, don't play all that well with others, because their root systems spread so quickly that they dominate other plants that they share soil with. That also means that they grow quickly without much pruning or fawning, which is perfect for people with busy schedules.
4. Know Your Sun & Embrace Your Shade
Hot peppers like habaneros and cayenne are easy plants to maintain in the summer months, because they like hot weather and shade in the afternoon and evening. Luckily, that just so happens to be the climate of my deck, and many other decks and balconies, considering they are often shaded by the shadow of the building that they are attached to.
Cilantro plants are happy to grow in indoor containers, as they prefer mild temperature shifts, morning sun, and well hydrated soil, something you won't find in dry climates.
Images: The Kitchn (4); Short & Sweets; Jessica Learish/Instagram