Fox's New Game Show Features Exploding Guacamole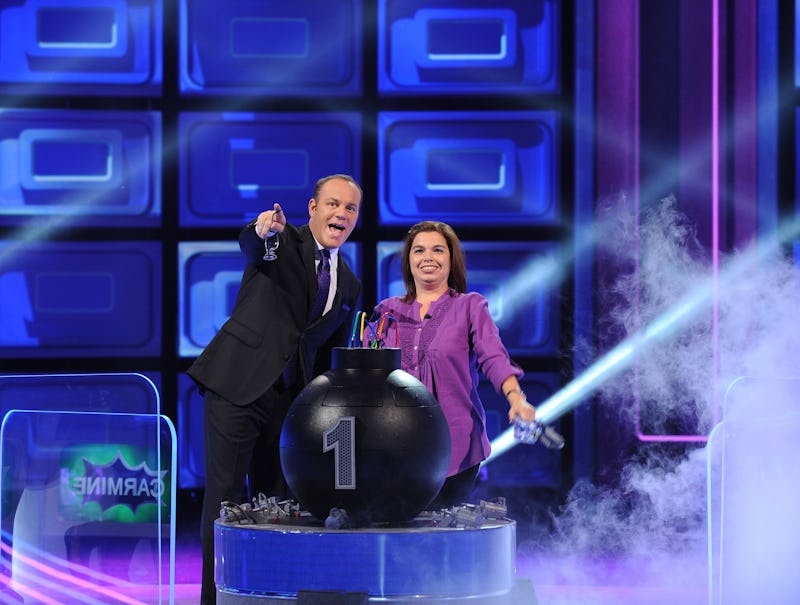 Another summer, another game show. On June 25, Fox is debuting yet another stunt-driven trivia show, Boom! This one seems more like Nickelodeon's Double Dare than NBC's 500 Questions, though. Why? There is some kind of slime component. Instead of answering questions from a podium, Boom! contestants sit near a prop designed to look like a bomb. Their answers correspond to wires in the bomb; if they answer correctly, the device is diffused, and, if they don't, they're covered in something gross, like hollandaise sauce or guacamole. It's going to take a lot of skill to host that show and take it seriously. So, who is Boom! host Tom Papa?
He's been a comedian for 20 years, and he's obviously not afraid to get messy. "I went through 20 suits," Papa told the Fresno Bee about taping the show. "As a comedian, I just want to know that the show is going to be funny... But then, in the middle of it, these people are so close to winning like $500,000. I really found myself like protecting these people, and rooting for them, and trying to make sure that they didn't end up with a big Wile E. Coyote slime bomb exploding in their face." Apart from his love for his contestants, here are a few other things to know about Papa.
1. He's Known For His Stand-Up
Papa has been a stand-up comic for what seems like forever. (Fine, since the early '90s.) Lucky for Papa, one of his earliest fans turned out to be a '90s comedy kingmaker: Jerry Seinfeld. Since then, you can see Papa around the edges of any Seinfeld project, or Seinfeld hiding behind the scenes in projects where Papa is the star. For example...
2. Papa Has Hosted TV Before
Papa was one of the hosts of The Marriage Ref — which was produced by Seinfeld, of course — where married couples aired their dirty laundry on TV and comedians decided which one of them had the upper hand in whatever marital spat they were complaining about. It was just as messy, but in a more emotional sense. If it were me, I'd take my chances with the guacamole.
3. He's Half Of A Funny Couple
Maybe Papa felt okay putting marriages in the spotlight because he's married himself — and to a fellow comedian named Cynthia. According to what he's told Esquire, being a comedian makes Cynthia cool with being the butt of a few jokes. "She's a comedian, too, so she doesn't care," he told the magazine. "I really celebrate women. I've got daughters, so I'm in kind of a safe area where I live, and whatever I talk about on stage will be stuff that they would be cool hearing." A+ for that, Papa.
4. He Has Another Unlikely Fan: Steven Soderbergh
Yes, Papa's reach is so broad that he's the type of person who has caught the eye of the writer of Bee Movie and the director of Magic Mike. The comedian has had roles in a bunch of recent Soderbergh projects, including The Knick, Behind the Candelabra, and The Informant! But, don't worry, he doesn't get to entertain the ladies of Tampa on the Magic Mike stage — I don't think anybody wants that, including him.
5. He's A Normal Dude
His bromance with Seinfeld aside, Papa has said that he likes that Boom! deals mostly with normal people, and not really with a panel of celebrities. "Celebrities are the worst," Papa told the Bergen Record, the newspaper of Northern New Jersey, where he and Cynthia both grew up. "Nobody who's come on Boom! ... [is] complaining that their car wasn't nice. No one wants to try and plug their book that they have coming out." Slime, it seems, has no ego.
He's A Big Fan Of The From-The-Eyes-Up-Only Selfie
His Instagram is full of them. I think it makes him look a little creepy, like he's always lurking somewhere below frame, but I guess that's the point. But, you can see his whole face on June 25 when he hosts Boom! on Fox.
Image: Ray Mickshaw/FOX (2); Getty