11 Plus Size Women Killing It In Bodycon Dresses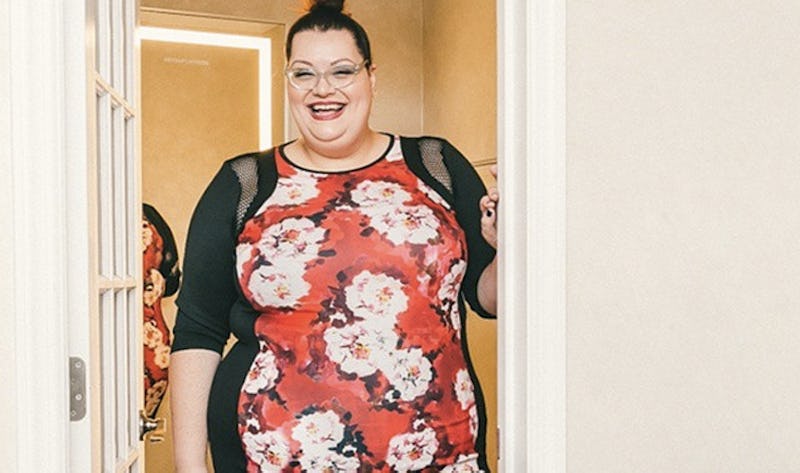 Being a body positive human is quite an important part of my life. And come the summer, plus size women wearing bodycon dresses tends to be one of the most sartorially rad ways for fuller-figured women to show some self love. I have, for most of my life, been a borderline "plus size" woman (an in-betweeny, if you will), body shamed for my size and the things I choose to wear. This is why I was so ecstatic when the body positivity movement began hitting the mainstream — transforming from a small community on the Internet to an arguably global effort.
We live in a world where women are always judged for their size. If your jeans exceed a certain numerical label, society's inhabitants will try to tell you what you can and cannot wear. Amongst the many things society tries to tell plus size women that they cannot wear are fitted items, such as bodycon dresses. The rules stem from notions of what "the perfect body" is, from people who don't realize that perfection is undefinable.
The simple truth: Plus size women can wear whatever their hearts desire. From bikinis to mini skirts, fuller-figured ladies can and should sport whatever they want without being shamed for it. If society's humans ceased to be as body shame-y as they are, the world would certainly be a better place.
So here are 11 plus size babes who rock bodycon dresses and prove that size just doesn't matter when showing off your beautiful bod.
1. Amber Lee
This gal isn't afraid of showing off her body. Lee decided to rock an eggplant bodycon dress with black T-strap flats. This blogger has definitely inspired me to incorporate eggplant into my fall color palette. Nice pose, Amber!
2. Stephanie
Stephanie of Classy Curves is all about body positivity. She is always killing it in fitted clothing, especially bodycon skirts and dresses. Stephanie isn't letting society's body standards hold her back, and neither should you.
3. Sarah Rae Vargas
Vargas is one of my favorite lifestyle vloggers due to her carefree personality. This badass lady is always saying "forget the haters" and rocking two-piece bathing suits while doing so. Besides those swimsuits, Vargas kills it in bodycon dresses. Can I borrow that dress, please?
4. Erika Lynn
Lynn's photo caption says it all. This beauty is not letting anyone else's standards hold her back, which is why she shines so bright in this bodycon dress. #flawless
5. Melissa
Melissa is a self-identified "fat babe," and she certainly looks like a dream in this photo. This anti body shaming darling is showing the world who's boss by wearing whatever she wants.
6. Chanté B.
This fashionista looks like a shining star in a vibrant yellow dress. I mean, doesn't this dress make you love yellow even more? Chanté would never let her size limit her outfit options, and we should all be following suit.
7. Shainna Tucker
This YouTube personality and fashion blogger is a gem. Tucker pulled this look off so effortlessly at The Curvy Con, and the cheetah print compliments her curves so well.
8. Amber Riley
OK, Mercedes was my favorite character on Glee due to her sassy personality. And Amber Riley is even more carefree and confident in real life, which makes me love her all the more. This actress wore an astonishing bodycon dress with a leather jacket, fedora, and red Converse on the red carpet. Riley proves that you can wear whatever you want, whenever you want. Love how the red Chuck's match the red lip as well!
9. Danielle Brooks
Brooks is killing it on and off the set of the hit show, Orange is the New Black. The actress is always making best-dressed lists at red carpet events, but during her free time, she still has fun with her attire by wearing fitted dresses and bright colors.
10. Nadia Aboulhosn
Aboulhosn is my favorite fashion blogger. She is extremely body positive and a true feminist, standing for size acceptance and women's rights, even without having to explicitly say as much. Plus, she is not ashamed of taking booty selfies in bodycon skirts and dresses. Aboulhosn is frequently showcasing her individuality and proving that fashion has no size limit. Can we be best friends, Nadia?
11. Sarah Conley
Conley is a plus size fashion, beauty, and tech blogger, which means she is a triple threat. Conley proves she is a fashionista on Instagram by displaying her rather stylish ensembles. She is not afraid to dress against the norms society has crafted based on her size. And she killed it in this floral bodycon dress.
Images: styleit, nadiaaboulhosn, thickgrlscloset, everythingcurvyandchic, msamberriley, daniebb3, yourstruelymelly, erikalynn424, like_a_butterfly, sarahhhrae, amberinred/Instagram (12)